Preity Zinta is not amused with all the rumours flying around about her wedding. The actress, who got married to an American businessman, Gene Goodenough, in a private ceremony in Los Angeles earlier this year, spoke to a leading daily about her marriage, IPL and future plans. 
Excerpts: 
On hiding the news about her wedding: 
It has not been long since I have got into this new phase of life. I am still getting used to it but it has been a great experience. Life is not about making everything public. It was my shaadi yaar, and I will decide how I go around telling everyone about it.
On auctioning the wedding photos: 
We haven't decided yet whether we will sell the photos but even if we do, the money will be donated for a cause. Every penny we make after selling the rights will be donated to farmers in Maharashtra.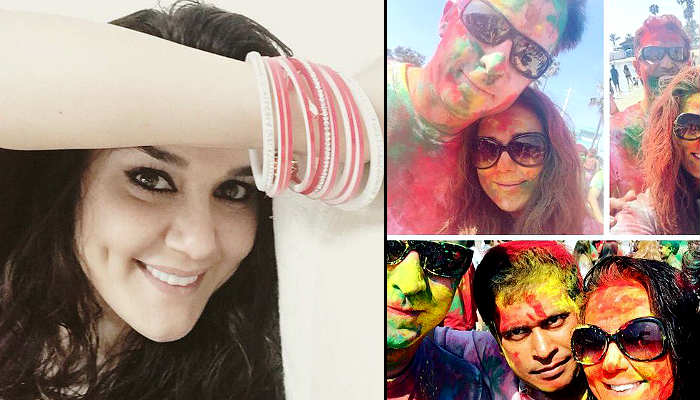 Photo: Instagram

On media's behaviour towards her personal life:

It has stopped bothering me, but there are a few things that I have taken to heart. Like when I was linked with Yuvraj Singh and Brett Lee. I will never forget it. They are my brothers. And I have decided to personally visit Lee and Yuvi on Raksha Bandhan and tie them not just one, two, three but maybe four rakhis. Then I will ask the reporters, 'Are you satisfied now?'

On what's that one thing she misses when not in India:

The first thing I did after coming to India was drink chai and eat dahi puri. I fell ill soon after that and stopped, but I have realised that if you have been away from home for long, you tend to miss it more. When I was in the US, I longed for all this.
File photo

On not being present in every IPL match: 

I have a life. I am married and busy shooting for a film apart from doing many other things. It's strange that when I was with my team for almost every match, I was branded as an actress without any film offers and was written off. People would say 'Oh, she has nothing to do, that's why she is seen during the matches'. Now when I am doing other things, I am sure the matches can continue without me.

On the IPL and drought controversy:

It's irritating when something is going fine and suddenly someone comes in and creates hurdles. Team owners were ready to donate money and even find ways to supply water to the drought-hit areas. The cricket league has become a soft target. In any case, it was not potable water. Shifting out matches will not solve the purpose.
On her next Bollywood film:
I am busy with Bhaiyyaji Superhitt. I play a UP-ite girl opposite Sunny Deol and will be seen in a completely different avatar. There are other projects in the pipeline too.
-- With inputs from Bombay Times