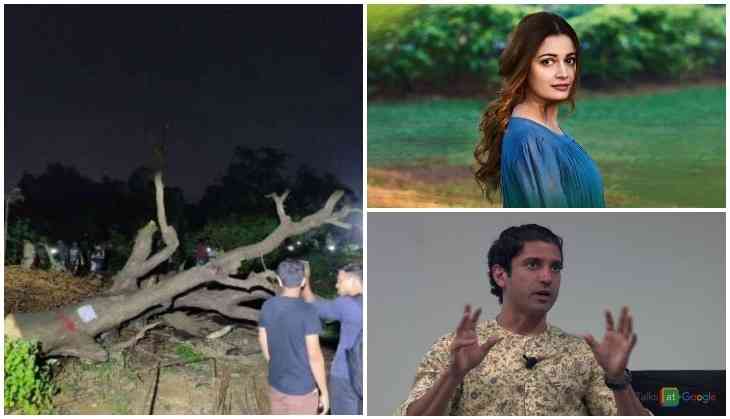 A long protest is going on against the Brihanmumbai Municipal Corporation (BMC) for cutting down trees in the Aarey Colony and to avoid any ruckus BMC officials were seen slashing down trees in the middle of the night. This scenario has left the people in shock, a video of the incident was shared on Twitter and since then netizens berserk including Bollywood celebrities have gone berserk.
People have come down at the roads to protest against this vicious demand of authority to cut down the trees just to build the metro car shed. Actors including Farhan Akhtar, Richa Chadha, Shraddha Kapoor, Dia Mirza among others have come out in support on their social media platforms and venting out their anger on the anger and calling it a heinous act.
Shraddha took to her Instagram handle to protest against the authorities, she posted some photos of articles on her story and captioned it as, "This is wrong and should not be happening" and "Mumbaikars wake up"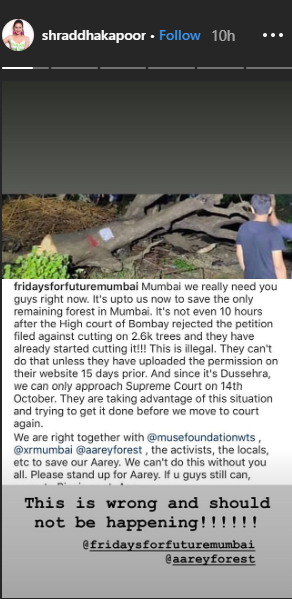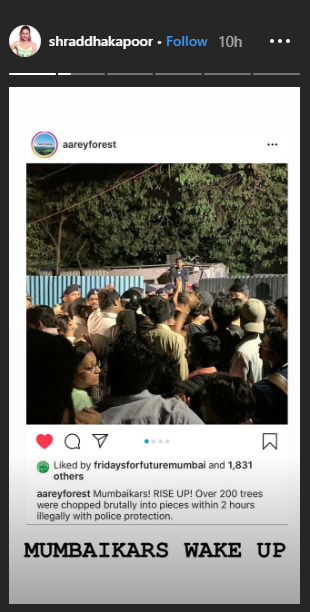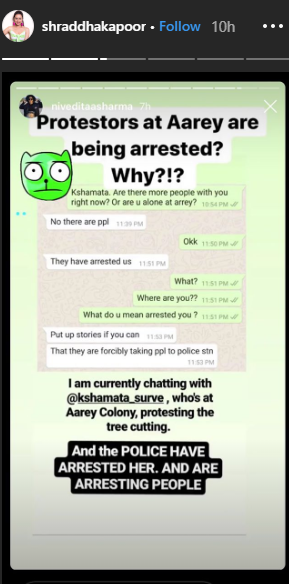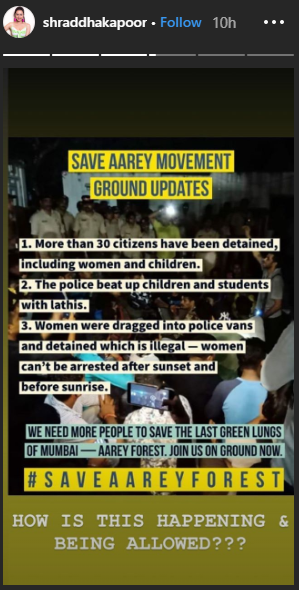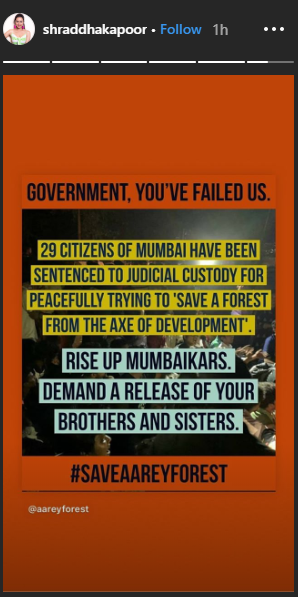 Farhan Akhtar took to his Twitter handle and wrote, "Cutting trees at night is a pathetic attempt at trying to get away with something even those doing it know is wrong"
Cutting trees at night is a pathetic attempt at trying to get away with something even those doing it know is wrong. #Aarey #GreenIsGold #Mumbai

— Farhan Akhtar (@FarOutAkhtar) October 5, 2019
Here have a look at other celebrities' social media posts on twitter:
Why were trees cut in the dead of the night ? Who gets rich(er) because of this metro car shed? Everything about this is shady from the get go, including how the first signatures for the tree felling were obtained. https://t.co/cnFgxgFmKK

— TheRichaChadha (@RichaChadha) October 5, 2019
400 trees have been cut in the dead of the night. As citizens sang and joined hands in unity pleading to STOP this massacre. Can't you see they are UNITED by love!?! Love for nature. Love for our children and our future. #Aarey #ClimateAction #ActNow #ChangeIsComing pic.twitter.com/7XCwSeaqDT

— Dia Mirza (@deespeak) October 5, 2019
Such a disappointing news on #AareyForest Cutting the trees in the night clearly shows even they know it's horribly wrong,inhuman. But we can compliment #GretaThunberg act blind n deaf to our own #Aarey n think we did our bit to the #environment https://t.co/Tb0NyBbZPn

— Urmila Matondkar (@UrmilaMatondkar) October 5, 2019
Even politicians have stepped down on roads to protest against the construction of a metro car shed. This protest has turned to into a very serious situation in Mumbai as police are arresting the people and putting them in jail. Apart from locals, many politicians including Priyanka Chaturvedi was detained by the police following the protest in Aarey Forest.
Also Read: Sonam Kapoor's cousin Shanaya Kapoor killer belly dance video will grab your attention