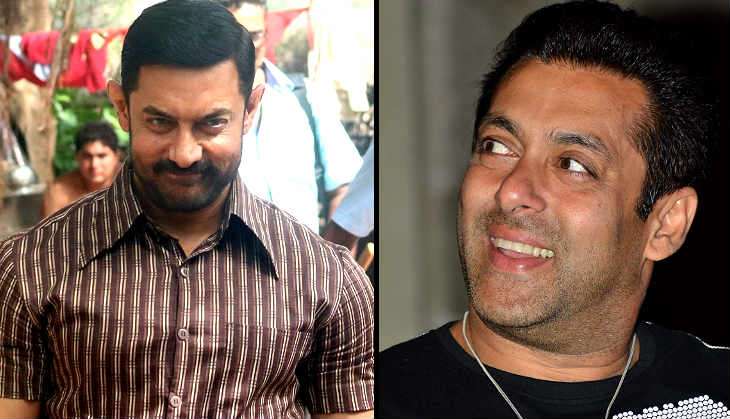 Aamir Khan has a rigorous workout regimen to convincingly portray Haryanvi wrestler, Mahavir Singh Phogat in his December 2016 release, Dangal.
When he started shooting for the film, the actor weighed 97 kilos, which according to him, remained the most challenging part of his preparations for the Nitesh Tiwari directorial. In an interaction with the media in Ludhiana, where he's currently shooting for the film, Aamir explained who inspired and helped him to build his body to justify his character.
Aamir said he sees his good friend and co-actor Salman Khan as his inspiration every time he has to build his body for a film. He stated:
"I have always been Salman's fan. I think he's the only one in the industry who had a lean, perfectly fit body much before the entire body building trend even started. I have always been a fan of his physique. And I don't think my body in Dangal is as great as his body in Sultan. Salman is my idol and I just try to come close to him. He is the original body builder of the industry."
Also read: Dangal goes beyond wrestling: Aamir Khan on comparisons with Salman Khan's Sultan
Aamir Khan in a still from Dangal (Twitter)
When asked whether Mahavir Singh Phogat himself trained him for the film, he revealed that not Phogat but Kripa Shankar, one of the best wrestling coaches at the national level, trained him for his moves in Dangal. He said:
"Kripa Shankar ji trained me to wrestle in the film. He works for Indian railways and therefore we had to take special permission to make him join us for the film for a year. We told him thatDangal is going to encourage and support wrestling as a sport in the country. He also trained the two actresses (Fatima Sana Shaikh and Sanya Malhotra) who are playing my daughters in the film. He is a wonderful coach. His contribution to the film and to the sport is great. Whatever wrestling you'll see in the film is all his hard work and planning."
Also read: Aamir Khan would love to work with Salman Khan subject to one condition, which is...
Kripa Shankar (Getty images)
Earlier, the first official still of Aamir Khan from the film was revealed. Check out a few of the on-the-sets photos from Dangal here:
Aamir Khan on the sets of Dangal (IANS)
IANS
IANS
IANS
IANS
Also read: Christmas release sure for Dangal. But when will its trailer be out? Aamir Khan answers