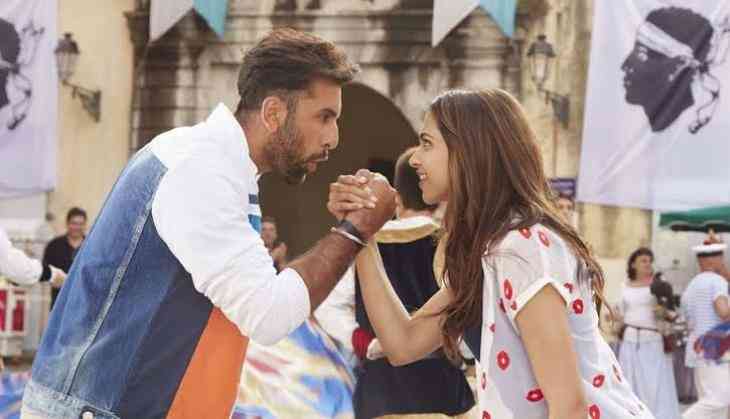 Director Imtiaz Ali is someone who always been praised for finding some different kind of stories that makes the audience realize that it is a part of their lives. Ranbir Kapoor and Deepika Padukone starrer Tamasha is also one of them that turned out a classic and memorable film of Imtiaz Ali. Today the fans of the film those loved the movie from the core of their heart are celebrating Tamasha's third anniversary.
Tamasha released exactly three years back on 27th November 2015, at that time Tamasha didn't do well at the box office but after a time, the audience even realized that this film deserves the best. Even now there will be some people who don't like Tamasha, there are people who connect their lives with Tamasha's character Ved Vardan Sahni.
Also Read - 3 Years Of Tamasha: Director Imtiaz Ali told how the most loved scene featuring Ranbir Kapoor and Deepika Padukone was shot; video inside
Today the social media has been full of wishes and experiences of audience and fans of Tamasha they have made 3 Years Of Tamasha on trend. Here we have brought you some of the best tweets and posts related of Tamasha.
3years of an album that we'll cherish & listen to for life. 3years of Ved & Tara. 3years of Tamasha, a movie 'Too Big For Little Minds.' One Of My Favourite Movies ❤️ Thankyou #ImtiazAli & #RanbirKapoor #3YearsOfTamasha

— Atharva Dange (@DangeAtharva) November 27, 2018
Still the most emotionally draining scene for me. An eye-opener. #3YearsOfTamasha pic.twitter.com/t6PsbOxQUD

— Diljot (@ilahi_x) November 27, 2018
What ever you say but for me #tamasha is more... than a blockbuster film....it is more... than a masterpiece nd tara is the best character of deepika's career till now.#3YearsOfTamasha

— Dristi (@Dristi61238425) November 27, 2018
Everytime I watch #Tamasha, I am reminded of Osho's quote,
" If you love a flower, don't pick it up. Because if you pick it up, it dies and ceased to be who you love. So if you love a flower, let it be. Love is not a possession". That is how Tara loved Ved !#3YearsOfTamasha pic.twitter.com/OWWewB0iLT

— Nived Nambiar (@Nived_Nambiar91) November 27, 2018
People always fail to realize power of great things, I think Tamasha was one such gem. Everytime I watch this movie I learn why the characters behave the way they do. The complexities are so real. @deepikapadukone as Tara is a lover we all need in life. :) #3YearsofTamasha pic.twitter.com/ZJX2NKLFlf

— Pun AM (@chiinuuu) November 27, 2018
A film which made it's way to the first page of my book #LoveMeLikeYouDo#3YearsOfTamasha #Tamasha #ImtiazAli pic.twitter.com/YE46H3pZVo

— Akarsh Raker (@AbstractAkarsh) November 27, 2018
100 years of Indian Cinema and #3YearsofTamasha pic.twitter.com/dhHpI8C0x1

— STG (@GoneSpeaks) November 26, 2018
Tamasha - i would rather call it a feeling, an emotion rather than just a film.#3YearsOfTamasha

— Anmol Jaiswal (@anmoljaiswal333) November 26, 2018
#3yearsoftamasha

Few films can touch your heart the way #Tamasha did. Internal struggle of both Ved or Tara define all of us at some stage. Master storytelling by #ImtiazAli. This film is an acquired taste, and those who did, devoured each moment #RanbirKapoor #DeepikaPadukone pic.twitter.com/sWEQDDQgwj

— Aastha Khandpur (@AasthaBKhandpur) November 27, 2018
Tamasha was a Masterpiece😇😊But not for the one who doesn't see & feel the emotions nd lessons of life it conveyed through it❤️ #3YearsofTamasha

— Sania_Agrawal❤️😍 (@saniaagrawal2) November 27, 2018
Chali kahaani is so beautifully shot... You need to be mad to cinematically jumble up all these great love stories with that of Ved and Tara... Main hi Mar jaaon yaa mare dooriyaan #3YearsofTamasha hats off to the great Imtiaz Ali

— Smita0912 (@Smita09122) November 27, 2018
It's been three years since Tamasha released and it continues to be the masterpiece it always was, which people failed to realize at the right time, a mindblowing mixing of stories, a journey worth learning from, and a mirror that is brutally honest. #3YearsOfTamasha

— emo mike. (@purba_mukherjee) November 27, 2018
"Tara..."

Whatever Ved & Tara did, helped us finding the more about us and Thank you so much for that.
You make us more human than we are.#3YearsOfTamasha #tamasha #Deepika #Ranbir #Ved #Tara@TamashaOfficial @Irshad_Kamil @arrahman @deepikapadukone #ImtiazAli pic.twitter.com/e4QNgQIM92

— Raj Abhishek Rajput (@raajraajput) November 26, 2018
#3YearsofTamasha pic.twitter.com/GemS4IY0Dk

— siddhant. (@ignoreandfly) November 27, 2018
Tamesha is a film that marks important in all three Ranbir Kapoor, Deepika Padukone, and Imtiaz Ali's careers. One hand, Ranbir Kapoor gave one of the finest performance of his career, then on the other side, Imtiaz will always be remembered for this connective story.
Also Read - Surprising! Ayushmann Khurrana's Badhaai Ho beats Baahubali 2 in this amazing box office record