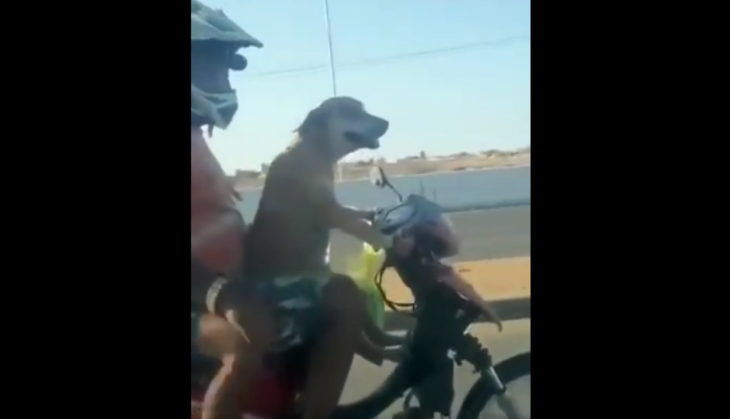 Internet is full of eerie things which amused us for various hilarious reasons. The things that captured our attentions is a dog.
A video has surfaced the Internet in which a dog can be seen riding a bike in full swag. However, two pillion riders were also sitting behind the animal.
Now, the video is viral on social media networking sites like Twitter and Reddit. Interestingly, the video has already garnered 25k views.
The viral clip shows that the dog is riding the bike with its two paws and two passengers sitting behind.
Check out viral video:
They see me rollin pic.twitter.com/59HxNpqLPA

— Klara Sjöberg (@klara_sjo) October 26, 2019
The viral video has sought the attentions of netizens and it has been flooded with comments and likes.
Here are some reactions on viral video:
Dog might proved better driver than human😜😜

— Mayank SINHA (@sinhamayank2807) October 28, 2019
Modi gov watch out rider without helmet & probably without licence time for challan

— pawan bisht (@pawanbisht023) October 28, 2019
October 26, 2019
Unbelievable

— Santanu1234 (@Santanu12341) October 28, 2019
In future, I think dogs will act as a Cab Driver. 😂😂 #amazing #traveller #dogs #likes

— Ranjan Kumar Bose (@RanjanKumarBos5) October 27, 2019
Twitter won't get better than this today.

See y'all tomorrow! pic.twitter.com/s5SCusN9Va

— Gideon of Vita Island (@GideonOnGaming) October 26, 2019
Do you have any bizarre video? Share with us...
Also Read: This Indian man designed suit just like Marvel's 'Iron Man'; Netizens say 'sasta Tony Stark'