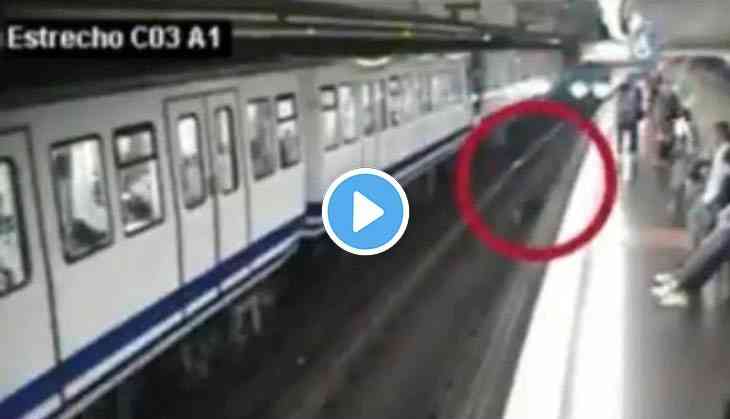 A woman busy in her phone met with an accident on the platform. The shocking incident was captured in CCTV footage. In the video, a woman at the Madrid Metro in Spain was busy fidgeting with her phone that she forgot where she is going.
In the spine-chilling video, the woman fell in front of an approaching train as she walked till the edge of the platform.
The incident took place at the Estrecho station in Madrid, where the woman was waiting for her train. When she heard the horn of the train, she proceeded ahead without looking ahead and fell on the tracks.
However, the train was halted at a few meters distance.
The video was shared by RTE News on Twitter that has been released by Madrid Metro.
Check out the video:
📱Distracted by her phone, woman walks straight onto Madrid tracks | https://t.co/N7J6EnvleV pic.twitter.com/nPo9n8wjSo

— RTÉ News (@rtenews) October 30, 2019
The video has collected over 34K views on the micro-blogging site and several comments, likes.
Here's how netizens reacted:
Sorry, you're in a train station how do you not realise they're tracks there ?

— Brian Burke (@brian017) October 30, 2019
Says the train stopped few meters away from her

— FNAF lover (@Fiona23121543) October 31, 2019
Did she survive?

— Lois Lent (@LoisLent) October 30, 2019
When will people learn !!!???

— Kuheli Alley (@kuheli_alley) November 1, 2019
I have to say the women are the worst for the phones especially whilst driving !
Just sayin, don't be offended 😀

— David Mc Gowan (@dmcg1968) October 30, 2019
Terrible but that is one narrow platform.

— Pat Fraser (@smoovemoooves) October 30, 2019
Life is not precious than mobile

— Amitabh Kishore (@kishoreamitabh) November 1, 2019
As per the reports, Madrid Metro has said that the woman is safe and did not suffer major injuries. "In this case, nothing serious happened," it said.
However, Madrid Metro has directed passengers to look up from their mobile phones when walking on the platform. "Not looking up when you are waiting for the subway is a distraction that can prove expensive," Madrid Metro said.
Also Read: Shabana Azmi shares hilarious image of signboard at Chennai airport; message will make you burst into laughter!