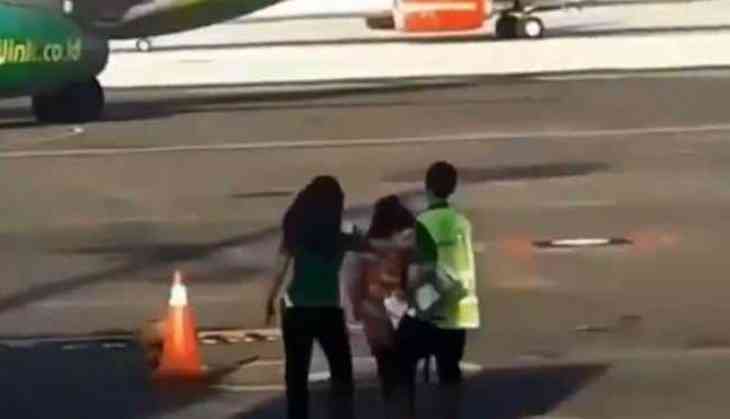 In a bizarre incident, a woman went on to chase a moving plane after she showed up late and missed out her flight. The woman, instead of waiting for the next flight, chose to chase the moving plane.
According to Channel News Asia, the woman, identified by local media only as Hana, missed her flight at Bali's Ngurah Rai Airport on Sunday morning. She was supposed to take a Citilink flight from Bali to Jakarta but did not show up on time.
According to an airport spokesperson, the woman did not turn up at the boarding gate and did not respond to the three calls made to her.
The video of the woman trying to chase the plane has gone viral on social media. In the video, two security officers are seen holding her as she tries to break free.
Watch video:
Dapet dari IG orang. Kejadian di Denpasar. Ibu ini telat boarding & menerobos boarding gate berusaha mengejar pesawat. Kebayang nggak apa yang terjadi seandainya kedua petugas gagal menghentikan si ibu itu? 🤦🏻‍♂️ pic.twitter.com/WxvmTy55NV

— Mas Goen | IG: @goenrock (@goenrock) November 18, 2018
A spokesperson for the airline confirmed the incident, according to Channel News Asia. "At 7.10 am, (the passenger) trespassed the boarding gate as the flight was going to depart to Jakarta as scheduled at 7.20 am.
"A Citilink employee and an airport security employee then pursued her," he said.
"The Citilink employee tried to secure the passenger as the plane was already moving, causing the passenger to fall onto the ground."
The Strait Times reports that the woman was placed on another flight to Jakarta later.
Also read: