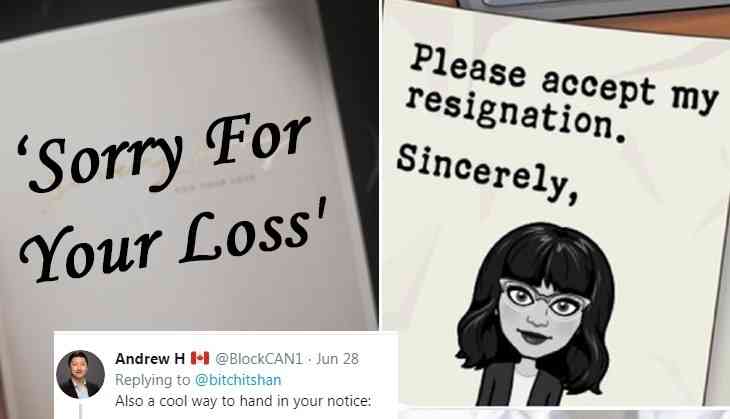 Are you planning to resign from your job and thinking about what points to mention in the resignation letter? Not to worry! A new way to write a resignation letter is doing the rounds on various social media platforms which has given an idea on how to quit a job.
A man from the UK found a new informal style for saying good-bye to the company in a formal way. A picture of his resignation card went viral on social media in which a note can be read as 'sorry for your loss' with other messages.
The picture of the resignation letter was shared by a Twitter user who is also a colleague of the man. He captioned, "one of our team members handed in their notice like this."
Inside the card, a message also wrote: "My last day of work is the 28th July. Thinking of you at this difficult time."
The card was given by a 22-year-old Sam Baines, who gave an interview to Insider and said, "I've been working here for almost a year now and had to hand my notice in as I'm going back to university this September."
Check out the post:
one of our team members handed in their notice like this 😂😂😂 pic.twitter.com/tqc9Hn6ODE

— h. (@bitchitshan) June 27, 2019
Meanwhile, the images of the card widely shared on the micro-blogging site and it has been retweeted nearly 40,000 times and liked by 210,000 people.
Here's how Twitterati reacted to the post:
"it's me" pic.twitter.com/CBFyQbhPp6

— Jerid, the Uneasy (@Jeridiculous) June 27, 2019
Omg this is iconic

— S H A D Y N A S T Y (@x_hatch) June 27, 2019
I love their work, I honestly have no choice but to stan 😂😂😂

— Double wahala, wahala 1&2 (@okuhlekodwaije) June 27, 2019
I know someone who did exact same thing , exact same card 😂 pic.twitter.com/2W8xyFiXC4

— Evenstar 🌟 (@HappyHare90) June 27, 2019
Also a cool way to hand in your notice: pic.twitter.com/6Nn5b6BciP

— Andrew H 🇨🇦 (@BlockCAN1) June 27, 2019
I took it just a bit further. pic.twitter.com/jW74isf4Hj

— James R. (@1jamesbianco) June 27, 2019
Also Read: Awwdorable! Watch how bride dances with dog on 1980s superhit track; video goes viral