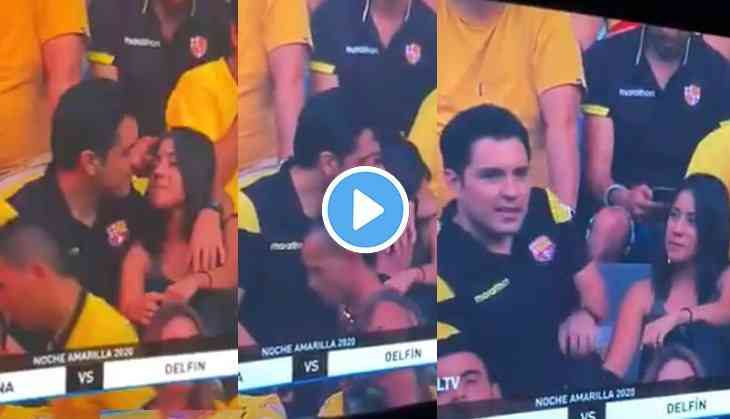 A cameraman is the most creative person who captures some unique moments that become viral on social media. One such kiss cam captured during the football match that has been widely shared on Twitter.
As per the media report, a South American man caught on camera while kissing a woman sitting next to her on live television.
The video was shared by CBS Sports reporter Roger Gonzales on the micro-blogging site. In the clip, the man can be seen putting his arm around the mystery girl at the Barcelona SC versus Delfin football game in Ecuador on Saturday. The awkward moment came to light when a man noticed that kiss cam on him, he then kisses her before realizing his mistake.
Then, he put his head down low as the camera focus on him.
The footage was uploaded with a caption, "When you kiss your side chick and realize your marriage is over cuz you're on camera"
When you kiss your side chick and realize your marriage is over cuz you're on camera 😂😂😂

pic.twitter.com/JaETF4sYhD

— Roger Gonzalez (@RGonzalezCBS) January 19, 2020
After this head-scratching moment of the amorous couple went viral on the social media platform, netizens took no time to respond to the video. Many media reports claimed that man had been caught cheating on his wife.
However, there are no reports on their relationship status.
Check out hilarious comments:
So it's 2020 and we're putting digital scarlet letters on people. We really haven't advanced at all have we.

— Allan Guty (@AllanJGuty) January 19, 2020
Anyone got the wife's @? We have an idea for revenge

— Fake Taxi 🚕 (@FakeTaxi) January 19, 2020
January 19, 2020
His new Facebook status = It's Complicated

— CableRocks (@Cable_Rocks) January 20, 2020
More evidence for that divorce settlement, lol.

— Tiffany (@trikkie1) January 19, 2020
He would have been wayyyyyy better off just rolling with it.

1. Less chance of wife seeing it since it wouldn't go viral
2. Wont piss off side chick

His reaction basically kills it for both women.

— Matt (@FL_Gator_Matt) January 19, 2020
guy in the background is either putting his food from his mouth and back into his bag or this is in reverse 😂

— Jordi (@TMB_Jordi) January 19, 2020
How it happened! pic.twitter.com/5Z0remtmUV

— Brown (@edet_udosen) January 19, 2020
Interestingly, the video is managed to collect 26.4 million views, 83.7k retweets and 341.3k likes on Twitter.
Also Read: Shocking! Motorcyclist permanently loses eyesight after egg thrown from oncoming car [PIC]