A bizarre case has come to light from Uttar Pradesh's Aligarh where a baby was born with a rare disease.
According to livehindustan.com, it is the case of Harlequin Ichthyosis, which is a severe genetic disorder. This disease leaves the entire body encased in armour-like thick white plates, separated by deep cracks.
As per doctors, Harlequin Ichthyosis, which affects approximately 1 in 3 million births, requires intensive care at birth.
See picture: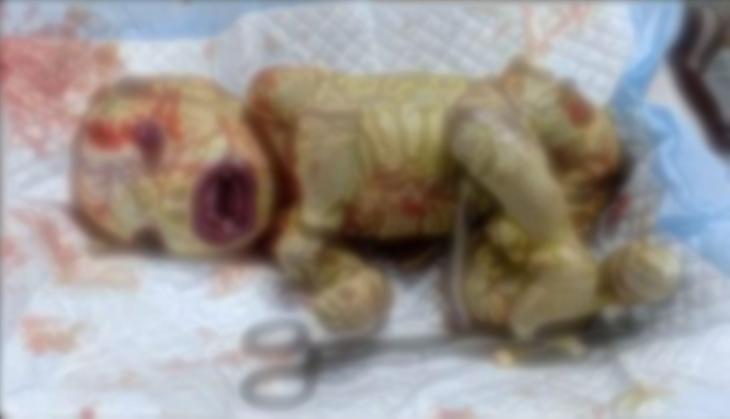 This strange birth of a girl child took place at Varun Hospital in Vishnupuri area of Aligarh.
On Saturday, a 35-year-old woman named Priyanka, a resident of Ganj Gurudwara in Kasganj, was admitted to the hospital. After seeing Priyanka's critical condition, doctor Mani Bhargav has shifted her to OT.
At around 4 pm, the woman gave birth to a strange child. After seeing the child, the hospital staff left stunned. The voice of the child is like normal children. But, there are several deep cracks on her body.
According to doctors, there are only three children with disease Harlequin Ichthyosis are still alive in the world.
Earlier in 2016, a similar case was reported in Nagpur, Maharashtra, which was believed to be India's first known case of Harlequin Ichthyosis.
Also Read: OMG! Baby born with two mouths; know what doctors do next!