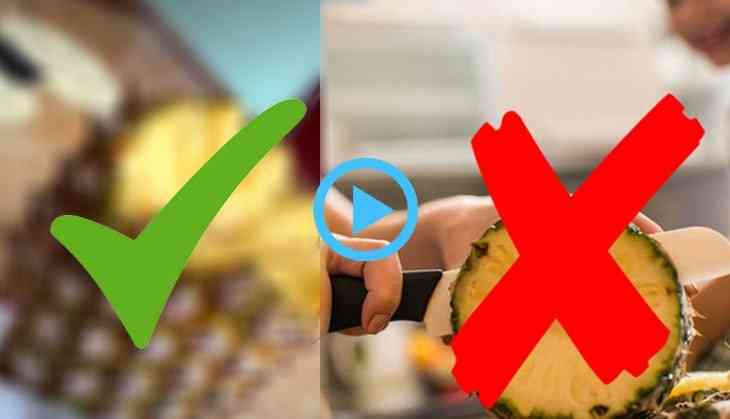 Many of us aware of the benefits of eating pineapple that it has a high amount of vitamin C, it makes our immunity strong and many more. But, eating it is not an easy thing for us as it took a lot of time to peel it off.
Therefore, people are always fond of tricks to cut it an easy way so that time and energy can be saved. If you are also among such people who always looking for short tricks then this man has brought an amazing trick for all of us which will make your left stunned.
A video is getting viral on the social media in which a man can be seen eating the sweet fruit without even cutting it with a knife.
Watch the amazing hacking trick to eat your pineapple in an easy way.
See video:
Im sorry but what the actual fuck 😨 pic.twitter.com/DYaDoGMe7i

— lewis mccluskey (@lewismccluskey) March 4, 2019
However, this grotesque video was made on the TikTok app and then, it went viral on Twitter.
In the video, the man can be seen eating pineapply without cutting up the fruit.
The video has been shared by Lewis McCluskey on Twitter and he captioned the video, 'I'm sorry but what the actual f***.'
His post went viral and has garnered 44,000 retweets and 138,000 likes.
Some Twitterati loved the trick while some make a fun of it!
See reactions:
Whaaaa!? pic.twitter.com/bwIurYH7Qu

— 🌸🌞ALEXIS! 🌞🌸 (@Alexis_cocoa) March 6, 2019
Keep us updated

— EazyAtHisBest (@Eazy_B) March 6, 2019
The chewing sounds annoy me so much 😩

— ً (@zaulxo) March 6, 2019
The chewing though pic.twitter.com/cT4k8qDBQ5

— 🌍 (@Lloyd_Deep) March 6, 2019
I cant stand people who eat/chew like this...

— Ken (@Kennydaalphabet) March 6, 2019
Never in my life would I have thought to do it that way lol

— K🌻 (@KodiStone1) March 6, 2019
What do you think about this trick?
Also read: Watch how a man in wheelchair left onlookers stunned with his stunt; here's the viral video