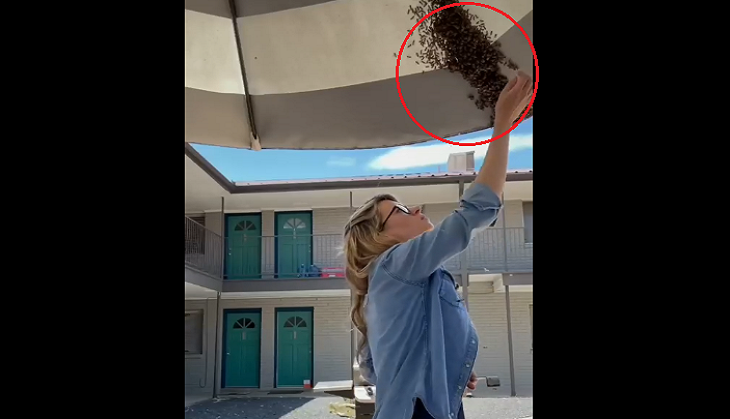 Video of woman removing bee colony
A jaw-dropping video of a woman removing a bee colony from an apartment courtyard has gone viral on social media. In the video, a professional beekeeper, Erika Thompson from Texas Beeworks can be seen handling the bee colony with bare hands.
The way she removed the swarm of bees has left netizens to go crazy.
Thompson shared posted her video on her official Facebook page. She shared the details about the removal of the bee colony in her video caption.
Also Read: Ouch! Honey bee stings woman's top lip; what happens next will frighten you
"After a big storm, a swarm of bees settled under an umbrella in the courtyard of an apartment complex. Two separate concerned residents contacted me and asked me to rescue the bees to make sure they wouldn't be exterminated. About halfway through this removal, I realized these bees needed more than just a new home...these bees needed a new queen!" she wrote in her caption.
Check out the video:

Since being shared online, the video has managed to collect over 20 million views. Netizens have dropped several amusing comments on the viral video.
A user wrote, "I have been fortunate to experience a swarm twice!! Beautiful experience. Thank you for the amazing work you are doing to support their well-being and ours!!"
Also Read: You will be amused to see two bees opening an orange soda; watch viral video
"You do such great work. Thank you so much! It is so inspiring. I had recently started caring for a hive and it is so rewarding to watch them grow and thrive!" another user commented.
What's your opinion on the viral video of Erika Thompson removing a bee colony?
Also Read: Woman catches huge snake with bare hands; video will give you goosebumps!