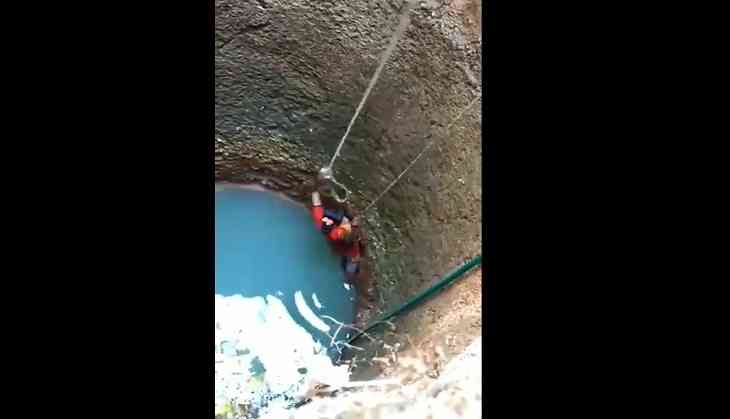 Internet brings something different and unique things for its users that left everyone stunned and bewildered. One such video has shared on Twitter which showed how a woman risked her life to save an animal's life.
As per the reports, a dog fell inside the well accidentally and after knowing about the incident a woman rushed to the spot and rushed to rescue it.
In a two minute video, a woman can be seen inside the well and tried to rescue the dog who had fallen into the well.
The video was shared by a user named Mauna with a caption, "bless the lady who saved the Dog."
If you haven't seen the video yet then here is the video.
Watch Now:
Bless the lady who saved the Dog 🙏 pic.twitter.com/UfguvHBnAG

— Mauna (@ugtunga) January 31, 2020
In the video, a woman climbed down the well as other people attached a rope to her body during the dog's rescue mission. With the help of another rope, the woman tied it around the dog after both of them pulled out of the well safely.
Netizens have applauded the lady for her bravery and also a pour-in blessing for her.
Check out reactions:
Great human being. Lady u r tooooo gud.

— LaBella (@LaBella42039892) February 2, 2020
Very courageous woman.

— Kalyan Balu (@KalyanBalu7) January 31, 2020
We must show this video to Fakooo... feminist and animal right activist...

— Pramod Jaila (@jaila1991) January 31, 2020
BRAVO👏👏 My salute to her 👍🙏#NariShakti

— NIL Mukherjee 🇮🇳 (@NilotpalMukher6) January 31, 2020
For me, she is a hero..🙏

— 𝓑𝓲𝓭𝓲𝓼𝓱𝓪 (@bidishalolo) January 31, 2020
Bless her!!!

— Anantha 🇮🇳 (@aellathur) January 31, 2020
May Ishwar bless that noble Atma.Proud of you beti.

— Sridhar venkat 🇮🇳🇮🇳🇮🇳 (@Sridharvenkat17) January 31, 2020
The video has been viewed over 15k times on Twitter.
Whistle for this lady who saved the dog's life.
What's your view on this video? Comment on our Facebook and Twitter page...
Also Read: Unbelievable! Indian woman branded 'witch' by neighbours all set to enter the Guinness World Records