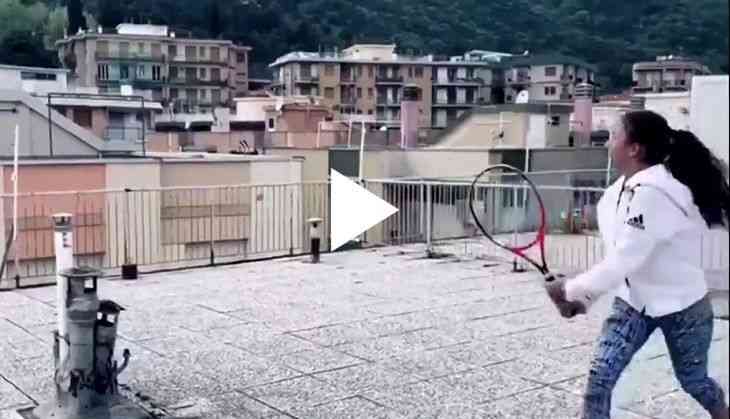 Due to coronavirus lockdown, people across the world are doing different innovative things to pass their time at home and to remove the boredom during the quarantine period.
One such amazing video has surfaced the Internet from Italy where two girls can be seen playing tennis from their terraces. Yes, you read right, the girls from Ligurian town of Finale Ligure coolly were seen playing remarkable rally from the rooftops of neigbouring building.
The 24-second video posted on Facebook last Friday by a local tennis club where both of the girls are members.
Max Oliver, the father of one of the rooftop players, Vittoria, who is playing with Carola Pessina, told Reuters that he had captured the footage because her coach asked tennis players to share a video of their training at home.
However, a few of the tennis balls were also fall on the road, which was collected by girls' fathers who put them in plastic bags.
Due to the coronavirus outbreak in the country, Italy has been put on lockdown till May 3.
According to media reports, Italy is likely to start giving some relaxation from May 4 by keeping in view all precautions, PM Giuseppe Conte said on Tuesday.
Because of the COVID-19 pandemic, over 24,100 people have been killed in Italy since the contagion first emerged in February.
Also Read: Angry doctor strangles teenage girl for failing to maintain social distancing amid COVID-19