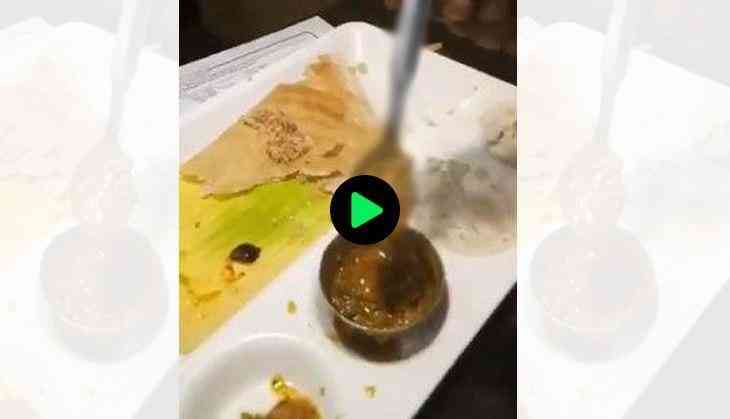 A hair-raising video has surfaced the Internet which showed a lizard in a dish. The video was from Delhi's top restaurant where a man had gone to dine in along with his friends and left stunned after seeing lizard in the food.
The incident took place at Saravana Bhavan restaurant and a police complaint was lodged.
In the video, a man can be seen showing a lizard in his bowl of sambar, which he has already half-eaten.
This shocking video came to notice when complainant Pankaj Agarwal visiting the restaurant in Delhi's Connaught Place area with his friends from Fatehpuri.
In the viral video, Pankaj can be seen yelling at the restaurant staff after seeing the lizard in his food.
Later, the man also showed the menu card to show the restaurant name.
"Muh se nikala hai yeh bite [I have taken this out from my mouth]...aadhi gayab hai [half of the lizard is missing]," Pankaj can be heard saying in the viral video.
While his friend was recording the incident and also taking the photographs of the menu card.
See the video:
A dead lizard found in sambar at most popular restaurant saravana Bhavan, Connaught Place (CP), New Delhi pic.twitter.com/yAwqBX7PvD

— Golden corner (@supermanleh) August 2, 2020
After this incident, a police case was registered against the restaurant. The probe was launched into the matter, the police said.
Police have also asked for the CCTV footage from the restaurant. Also, details about the ingredients used in making sambhar as well as restaurant license have been asked by the police.
Also Read: Believe it or not! Father dies 10 days after eating lizard