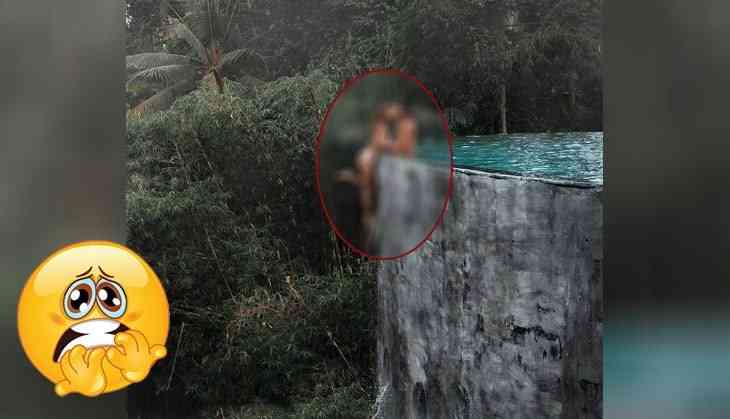 The craze for selfie or photograph has reached to next level after a couple shared a dangerous picture on their Instagram account.
Their post has also brought the Internet by storm and divided the Internet. Many people liked the post but many slammed the couple.
An American couple named Kelly Castille, 33 and Kody Workman, 32 has recently taken to their travel page called @positravelty and shared a dangerous photo that was clicked in an infinity pool.
In the horrifying picture, a man can be seen kissing his bikini-clad girlfriend by holding her arms over the edge of a three-story infinity pool.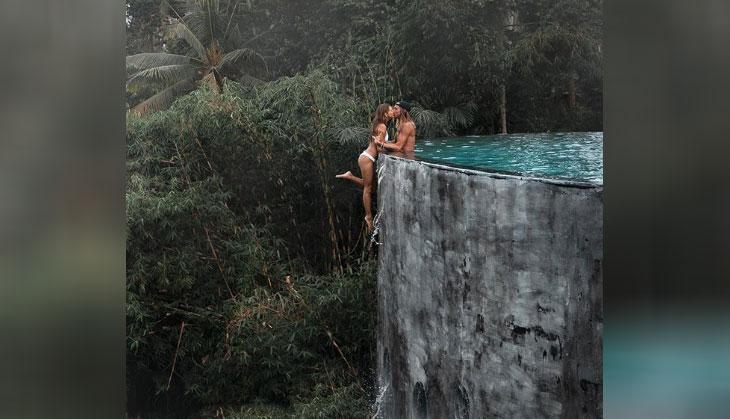 The body of the girlfriend is completely dangling over the edge.
They have shared the photo with a long caption, 'Our greatest strength in life, our most important principle, is discernment. Only you can know your body, feel the space around you and understand your capabilities. We would all do well to remember this, knowing that not every action, style or path we witness through others is or should be, replicated. At the end of the day, we are to hold ourselves accountable for the decisions that we make.'
Check out the post:
However, their hair-raising post made their followers to criticise them for risking their lives.
One of the users wrote, 'Your stupidity, foolishness, pretentiousness, and utter lack of moral understanding blows my f***ing mind.'
After getting brutally trolled on social media, the couple said, 'as for safety, we are all responsible for ourselves at the end of the day. The reality is that we felt safe, stable and confident for two reasons. First and foremost, there is another pool below that we cropped out of the shot for dramatisation.'
Besides trolling comments, the picture has garnered 19,000 times likes.
Also read: Ridiculous! Drunk woman on flight showed her a*s after air hostess requested to do this thing; see viral video