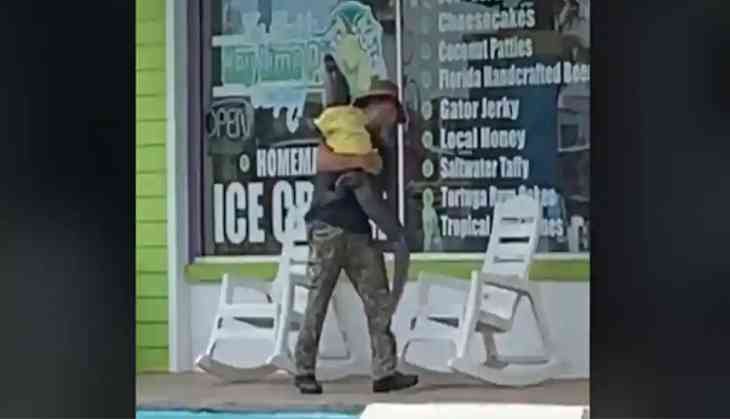 Alligators or crocodiles are one of the ferocious reptiles that can harm anyone within a second. But this video will leave your wide open in which a man can be seen carrying the reptile just like a baby.
Well, it's a video of a six-year-old blind alligator named Sweetie, who has become the celebrity on social media.
The reason behind the popularity of Sweetie was the video of her being carried like a baby by her owner went viral on TikTok.
The astounding video showed the owner of the Florida Key Lime Pie Company, Louie Morehead coming out of the store and picking up Sweetie, who can be seen wearing a lime coloured T-shirt and taking her back into the store.
The video was shared by a TikTok user named Rachel Bowman with a caption, "Why does this sum up Florida so well?"
See video:
The video immediately went viral on social media and successfully managed to collect over 2.3 million views with over 7k comments and 63.2k likes.

Even netizens have expressed their happiness over the awdorable video and the love of the owner towards alligator.

Also, a Facebook page named Florida Key Lime Pie Company shared several pictures of sweetie wearing different shirts.
Also Read: Bizarre! Seagull trespasses into woman's house, vomits on her kitchen counter; viral pic inside