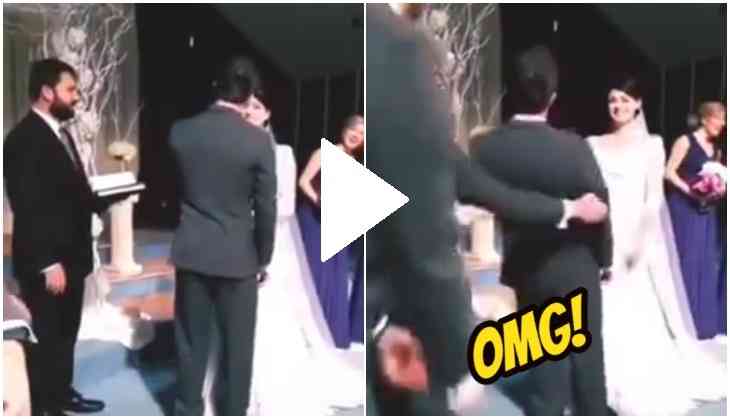 Groom faints after kissing bride
A wedding is the most auspicious day for a couple to celebrate. Sometimes many bizarre things happen during a wedding ceremony which one can't forget for the rest of their life.
Especially, in this era where everything is recorded and even shared on social media.
These days, we have seen several wedding videos which have grasped the attention. Once again, we have brought another amazing wedding video for your daily dose of bizarre where a Christian wedding is in progress with all rituals.
Also Read: Newly-wed couple gets this hilarious gift from their friends; video will make you go crazy!
One of the traditions during a Christian wedding is that the groom and the bride kiss each other after taking vows. The viral video is also related to the same ritual.
In the viral video, the groom faints after kissing his bride. The video was shared by an Instagram called Pyaar Romance Wala.
Don't believe it! Check out yourself:

In the viral clip, the bride is wearing a stunning white colour wedding gown while the groom is seen in a black suit. However, the groom pretended to faint and fall backward after kissing the bride. In the meantime, the groom's friends standing behind him hold him and pick him up again.
This funny gesture of the groom also surprised his bride, who also started laughing along with her friends standing behind her.
Meanwhile, the awdorable video has garnered over 90k likes on Instagram.
Also Read: Bride starts playing kabaddi on stage during varmala ceremony; know what happens next