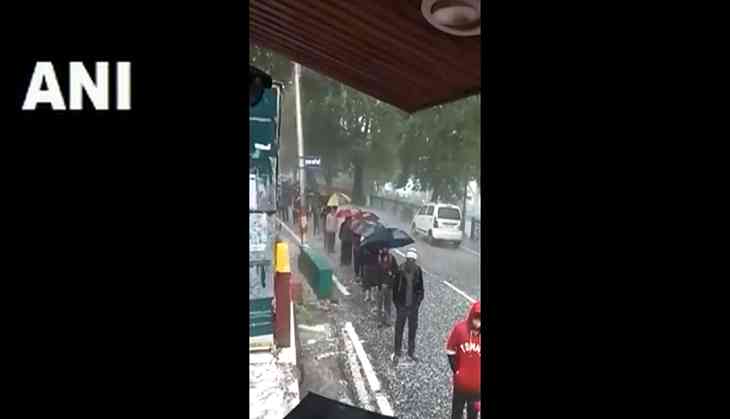 People have rushed the liquor shops just a day after when the government nodded its head to open the shops amid lockdown. Several videos and pictures have surfaced the Internet in which long queues can be seen outside the liquor shops across the country.

The latest one has been shared from Nainital where alcoholic people didn't disperse even after the area was hit by heavy hailstorms on Tuesday.

The video went viral on all social media platforms. An interesting part of the video is that all of them were maintaining the social distancing while holding an umbrella, waiting for their turn to buy a bottle of liquor amid heavy rain and hailstorm.
Uttarakhand: Shoppers brave hailstorm to buy liquor at a shop on Mall Road in Nainital today. #CoronavirusLockdown pic.twitter.com/lvU2K1HT2c

— ANI (@ANI) May 5, 2020

According to ANI reports, this scene was seen outside the liquor shop on Mall Road, Nainital.

The video was also shared by the Indian Forest Service (IFS) Officer, Parveen Kaswan on Twitter.

He captioned it, "Agnipath...Agnipath...Agnipath. Outside a liquor shop. Today via WhatsApp."
See video:
Agnipath.. Agnipath.. Agnipath. Outside a liquor shop. Today. Via Whatsapp. pic.twitter.com/sul4F5uIBt

— Parveen Kaswan, IFS (@ParveenKaswan) May 5, 2020
Meanwhile, netizens have gone mad over the video widely circulated on social media.
Check out reactions:
The nation will never forget how these drunkyard helped the ecconomy no matter what storm came their way.
Huge respect 🖤 pic.twitter.com/apTg4NDAQs

— Aditya Anamaya (@AnamayaAd) May 5, 2020
Daru ho gya, barf ho gya..bhagwan ji chakhna bhi barsa hi do inn bewdon par

— IRONY MAN (@karanku100) May 5, 2020
Wow 🤩.. even heavy rains won't deter them from breaking the queue or the physical distancing .🙏

— Namma Bengaluroo (@NammaBengaluroo) May 5, 2020
Daarubaj right now pic.twitter.com/5L0vOpGvyR

— प्रोफसर Raja babu 🥳🌈 (@GaurangBhardwa1) May 5, 2020
These guys are unbelievable. Just offer them free liquor for beating poachers. Poachers will be soon be critically endangered species.. 😂 #coronamemes

— Ayush Tayal (@sachinist_tayal) May 5, 2020
🙆‍♀️ itni shiddat ke saath

Anyways handwash and ice is readily available too

— NinjaWarrior (@NannuK7) May 5, 2020
Meanwhile, India has been put on a third stage lockdown that will be followed till May 17.
Due to the coronavirus outbreak, 49,391 confirmed cases for COVID-19 reported while the death toll reached at 1,694 so far.
Also Read: Shocking! Anonymous man buys liquor of Rs 52.8k, shares bill on WhatsApp, Karnataka excise dept books seller