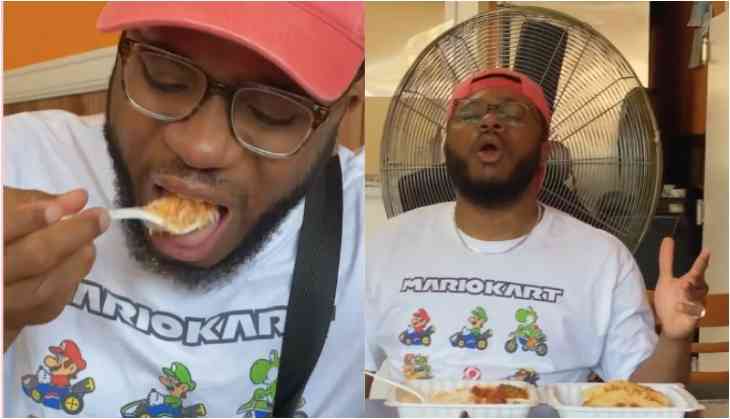 Nigerian man tastes Indian food for the first time. (Photos: Ling & Lamb)
Many people are fond of tasting varieties of food dishes at different restaurants. However, Indian food has a unique place in many people's hearts because of its taste and variety. This viral video will make you also believe that Indian food is one of the best foods in the world.
In the video, a Nigerian man can be seen tasting the food for the first time at a restaurant in the US state of Connecticut. After tasting the food, the man's reaction was so amazing that netizens are loving the video.
The video was shared by Taccara Rae and Lamboginny, an influencer couple on Instagram.
They shared their experience after eating Indian dishes on their Instagram account named Ling & Lamb. Meanwhile, the clip has gone viral.
Also Read: Woman orders pizza from famous chain; what she finds in its topping will make you angry
The video shows the couple visiting the Bonani Take Out Indian Kitchen where they have ordered a thali having rice, paratha, and Lamb Vindaloo, which is an Indian curry dish, originally from Goa. It is often regarded as a fiery, spicy dish.
After the Nigerian man tasted the food, he was so impressed that he offered to pay a double amount for the dish.
Check out his epic reaction:
In the video, Lamboginny can be heard saying when the dish was served, "This is Lamb Vindaloo? If it is not sweet, I am not going to pay."
"It is not sweet. It is a little spicy," the waiter replied.
After having a single bite of Lamb Vindaloo, Lamboginny couldn't control himself and asked for another helping of rice. "I am already an Indian," Lamboginny said after enjoying the Indian thali.
"I am going to pay double," he told the waiter. Also, he ordered to pack some more dishes for himself.
As soon as the video surfaced on the Internet, social media users also shared their love for Indian food.
Also Read: Chef dies while making snake soup; reason will scare you!