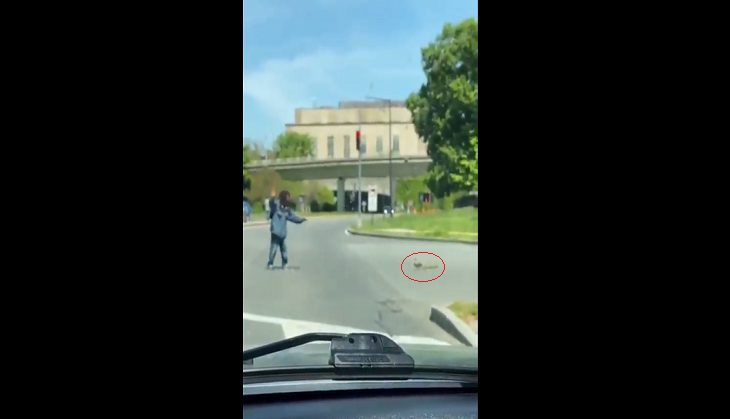 Man helps duck and its ducklings cross busy street
An adorable video of a man helping a duck and its duckling cross a busy road has gone viral on social media. The video was posted on a Twitter account called @hopkinsBRFC21. The 19-second clip is winning the hearts of the netizens.
In the viral video, the man can be seen stopping the vehicles when he spotted a duck and its babies crossing a street from one side to the other. To provide them safety, the man turned traffic police and halted the traffic for a while so that the ducks could cross the road without any disturbance.
Also Read: Scary! Elephant walks close to railway track; see what happens next
The video of the whole incident was shared with a caption, "Humanity".
Check out the video:
Humanity 🙏❤️ pic.twitter.com/9BEMLIZrbR

— ❤️ A page to make you smile ❤️ (@hopkinsBRFC21) August 26, 2021

Since the video being shared on the micro-blogging site, it has garnered several likes and retweets. Social media users hailed the man for his kindness and applauded him for humanity.
A user wrote, "What a great man. Humanity still exists. Bless him."
"Love this! Kindness in action. So important to look after wildlife, what a great man," another commented.
Meanwhile, the video has been viewed 3.2k times and received several reactions on Twitter.
Also Read: Parrot flies away with mobile phone; what happens next will blow your mind!