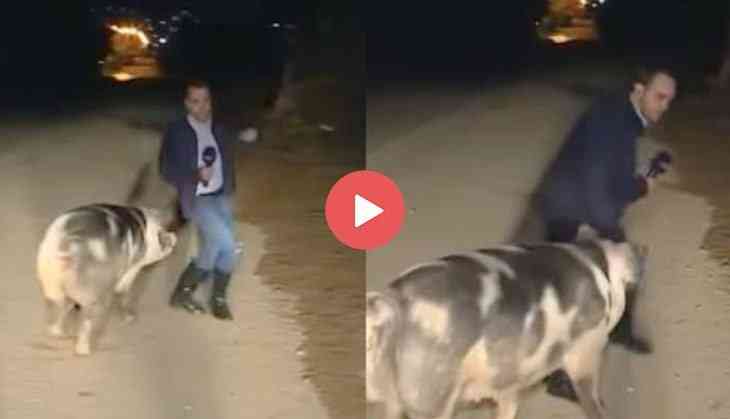 It's easy to find bizarre things on social media that could make anyone burst into waves of laughter or could stun for its content. One such video has surfaced the Internet which has left netizens amused.
The job of a journalist is quite challenging because sometimes reporters have to visit challenging places for the coverage of the event. In the viral video, a reporter can be seen doing the reporting on the aftermath of floods in Kineta, Greece for the news show and during the coverage he was interrupted by a pig.
This amusing video was shared by BBC News' Kostar Kallergis from the news show Good Morning Greece, where a reporter named Lazos Mantikos chased by a pig.
In the video, anchors were also seen laughing at Lazos for the interruption caused by a female pig.
Kallergis posted the video with the caption, "Greek journo pestered by a pig while reporting on the recent floods in #Kinetta #Greece."
Check out the funny video:
Greek journo pestered by a pig while reporting on the recent floods in #Kinetta #Greece #tv #bloopers #ant1tv #Ant1news pic.twitter.com/vsLBdlWCMB

— Kostas Kallergis (@KallergisK) November 26, 2019
The video began with the studio where journalist Giorgos Papadakis introduced the reporter at the flood location. Lazos replied, "Good morning, we have an issue," and we can all see what the issue was.
"Giorgos, can you hear me? We have a pig here that has been chasing us since this morning. Folks, sorry, I can't stand (still) because it's biting me," Lazos said as the journalists back at the studio could not control their laughter.
Also, Papadakis cracked a joke on Lazos's situation and said that how the pig wants to become famous by appearing in front of the camera. "This is about (wanting) that one moment of fame. I have seen male and female pigs who look for a moment of fame," studio journalist said.
However, netizens can't hold their laughter after seeing this hilarious video.
Check out Twitterati's reaction on the video:
Always first with the big news

— simon wilson (@siwilso) November 26, 2019
I'm 100% with the pig here, they are very sensible creatures so he must have done something

— ʏɪᴀɴɴɪs ʙᴀʙᴏᴜʟɪᴀs (@YiannisBab) November 26, 2019
😂😂😂😂 He's hogging the limelight!!

— Chris Murphy (@Gribbler79) November 27, 2019
Omg!🤣It's hilarious!

— AKPandey@13 (@AKPandey131) November 28, 2019
The pig is eager to be shown by the news channel hahahah

— Anti Terrorists (@AntiTerrorists3) November 29, 2019
Not pestered, loved.

— Ace Hoffman (@AceHoffman) November 26, 2019
Meanwhile, the video has garnered over 137k views and 1.6K likes on the micro-blogging site.
Also Read: It's Viral! Watch how ENT doctors clear earwax; Netizens call it disgusting