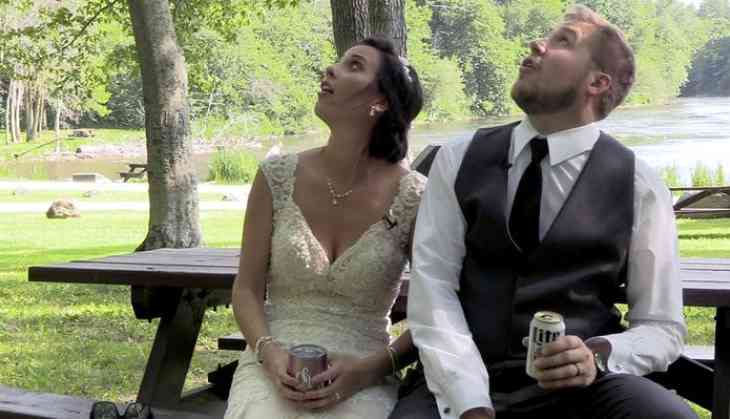 It's always fun to watch wedding ceremonies, and see your loved-up couples talking about their fairytale romance that make you go "aww".

A recent wedding video shoot will leave in shock. The video shoot is titled 'Newly-wed's Near Death Experience' on Facebook. Posted by Freddy Hernandez Photography & Media, the video shows the bride and groom almost being hit by a huge branch as they spoke about their love story.

Newlyweds Cheyenne and Lucas Kopeschka were finishing up an interview for their wedding video when the bizarre incident happened. The couple, talking lovingly about each other, suddenly had their attention diverted to a sound above them. Turns out it was the sound of a cracking tree branch.

The video shows the couple dart forward in the nick of time as the branch falls right where they were sitting. Thankfully, no one was hurt in the incident.
Watch the video:
"This couple's love will forever be stronger than that tree..." says the Facebook caption posted along with the video, which is teaser of the wedding.

The couple got married on June 30, the teaser of their wedding was shared on Facebook on July 3. It has since collected quite a few reactions.

"Insane!!! That's crazy. So glad they are ok, it was a matter of seconds omg! I'm in shock," says one Facebook user. "OMG! Thank God they are ok and beautiful wedding video," says another.