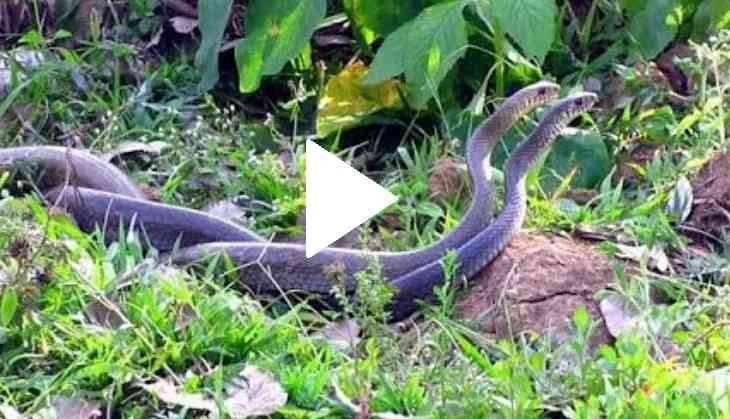 Social media has been flooded with several videos of animals which have left us stunned. This time we have found a rare view of snake couple dance which you have never seen before on social media.
The rare video of a snake couple's dance was caught on camera in Madhya Pradesh's village Bandri Bachhu in the Sagar district. The incident was captured by farmers who were working in the fields.
Also Read: Woman catches huge snake with bare hands; video will give you goosebumps!
They found a snake couple mingling with each other. All thanks to those people who stopped their work to capture this rare view on their mobile phones. Meanwhile, the video has gone viral on social media.
To witness the moment, a crowd also gathered at the spot and watched the couple embracing each other.
Watch video:

According to villagers, the snake couple danced there for half an hour. The viral video also showed a dog who was also watching the snake couple dance from a distance.
One of the villagers said that watching a pair of snakes is a good sign of prosperity in the villages. The meeting of snakes is considered as the arrival of the rainy season.
Besides, residents of Bandri Bacchau have witnessed the never-seen moment in the village.
What's your reaction after watching the snake couple's dance video?
Also Read: Teenage girl left horrified after she discovers venomous snake in her asthma inhaler