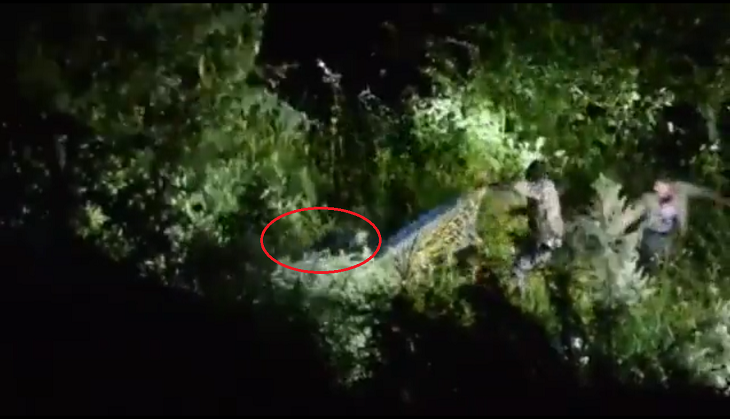 Screenshot of video showing forest officials trying to capture sloth bear
A petrifying video of a sloth bear has gone viral on social media. In the video, forest officials in Joshimath can be seen trying to capture the sloth bear but what happened next will send chills down the spine.
The viral video was released by the Forest department on Twitter. In the clip, Forest department officials can be seen trying to catch the wild animal, however, it attacked them.
Also Read: Scary! Lion bites zoo worker's hand after he tries to pet it; see what happens next
Moments later, the sloth bear was shot dead by forest officials.
Watch video:
#WATCH | Forest officials shot dead a sloth bear after it attacked some of them when they were trying to catch it in Joshimath area of Chamoli, Uttarakhand last night.

A team of forest officials tried to catch the bear after it attacked some locals.

(Video: Forest Department) pic.twitter.com/emTxmuMBcm

— ANI (@ANI) September 22, 2021
The department went to catch the bear after it attacked few locals in the Joshimath area of Chamoli in Uttarakhand.
Since the video is being surfaced on the news agency ANI Twitter account, it has garnered over 15k views and 242 likes.
Many netizens have slammed officials for killing the animal. One of the users wrote, "What the hell inke pass kya behos krne wali gun nhi thi ab 10-12 log jaeynge to attack krega hi"
Also Read: Hyena attacks 70-year-old man; horrifying video goes viral
"Wahan gaye hi kyu thhe aap ? Our pakdna thha tu maara kyu ? Y ? Usse behosh bhi kar skte thhe ?" another commented.
Some users extend their support to Forest officials for their risky job. "The work of forest department is not at all easy but very hard one. We should refrain form negative words for them as we can't imagine what they go through in just one single day. And remember no one loves the wild life more then our forest department heroes," one of the users wrote in the comment box.
What's your reaction to this viral video?
Also Read: Woman tries to take selfie with goat; what happens next will make you laugh out loud!