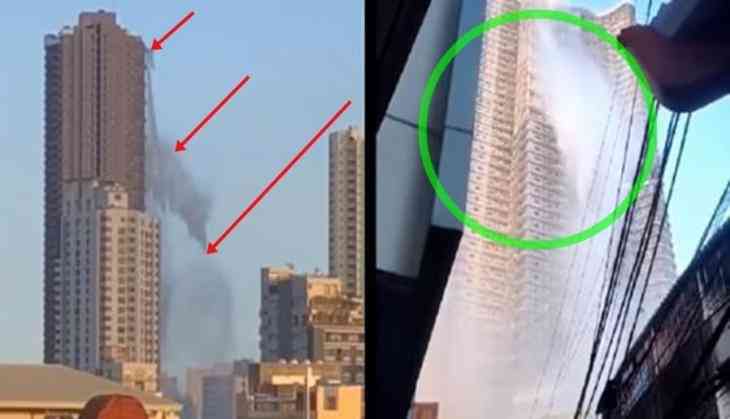 Earthquake always causes destructions not only to public or private properties but also left some serious effects on Earth even at high intensity or low intensity. Recently on Monday, an earthquake of magnitude 6.3 on the Richter scale jolted the Philippines' mainland of Luzon which killed 11 people and dozens injured.
Several images and videos have been out where quake left some serious destruction and demolition of a building.
A video of the earthquake also doing round on the social media in which water can be seen spilling out from the rooftop swimming pool at the Anchor Skysuites apartment in Manila.
In the viral video, the pool from a 48-floor building spilling the pool water. Reportedly, due to an earthquake on Monday, the pool was ruptured and in result, the water was spilling.
The video of water explosion was recorded by the passerby and soon, it went viral on social media.
Have a look at the video:
An earthquake emptying a rooftop swimming pool in Manila today. pic.twitter.com/kBeGEdmClx

— Space Explorer Mike (@MichaelGalanin) April 22, 2019
However, Net Group Philippines, the company that owns the building has also released a statement and said, 'An external fiberglass roof deck water tank ruptured during the earthquake.'
'This caused water to cascade over the side of the building. The water was absorbed by the green roofs located on the 8F. The flow of water was immediately contained within 10 minutes,' statement posted on Facebook.
However, Net Group Philippines has also clarified that no other damage and injury was reported.
Meanwhile, the video has garnered 368k views and over 10,000 likes.
Check out some reactions of Twitterati:
Jesus I hope no one was swimming 🏊‍♀️🙈

— trendycutedeals (@trendycutedeals) April 22, 2019
Just how big was that pool?

— Sarah Hill (@Sarah_H115) April 22, 2019
We're people in the pool? Hell of a Canon ball

— KINGOFSPRINGSTREET (@BryanBEEsmith) April 22, 2019
Wait, if the water is coming out, then so would the people in the water.

— Sarah Hill (@Sarah_H115) April 22, 2019
As per the reports of the US Geological Survey, the earthquake struck 60 kilometers northwest of the Philippines capital, at a depth of 40km.
Also read: Video: Father accidentally hits three-year-old son by car in Delhi; what happened next will give you goosebumps!