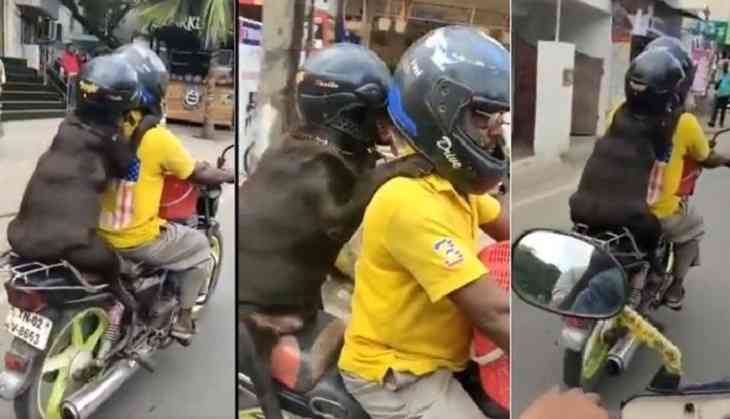 Not only humans but animals also following the traffic rules seriously. Earlier, a video showed a cow waiting for a green signal at traffic light gave a lesson to people who violate traffic rules. Now, a dog wearing a helmet has brought the Internet by storm.
In the viral video, the canine can be seen wearing a helmet while riding as a pillion on a bike. The video was recorded somewhere in Tamil Nadu.
The video was shared by a Twitter user named Pramod Madhav with a caption, "Dog wearing a helmet for safety in Tamil Nadu.. Really admiring the owner's care."
Dog wearing helmet for safety in Tamilnadu..

Really admiring the owner's care..❤❤ pic.twitter.com/pmEvwf2Dq4

— Pramod Madhav (@madhavpramod1) January 7, 2020
In the video, a man riding his bike on a busy road in Tamil Nadu and his dog was sitting behind him like a human. The video has won the hearts of netizens as it managed to garnered over 4,300 likes and over 55,000 times.
Check out reactions:
Here no one's life is safer. 🐕 +Owner + people behind that bike.

— Indian (@Indian21790170) January 7, 2020
Super..

— Murugan (@janakisaran) January 7, 2020
I admire your tendency to find "care" in this scenario. But, my friend, you are just as nutbag as the guy in this vid.

— victor anand (@victorxanand) January 7, 2020
Plz follow traffic rules

— basavaraj madari (@basavarajmadar9) January 8, 2020
okay, hope they stay safe always! 🙏😊

— Deeps_Jins (@BarunIsTheBest) January 8, 2020
Yeah, now the dog riding pillion is safe.... pic.twitter.com/BO8S2wXa6q

— Gubeer sirippu! (@c00lprasanth) January 7, 2020
A few people have also criticized the dog owner for taking the dog as a pillion rider.
This is not correct method to travel with pet animals.

— KangeyanD (@kangeyan50) January 7, 2020
I think the dog is not supposed to made to sit in bikes. They're not physically equipped to establish stability and grip.

— கிருட்டிணன் - Krishna (@KrishnaTribe) January 7, 2020
What's your view on this video? Share your opinion in our comment box...
Also Read: Random acts of kindness: Elderly man rescues stranded cat; video will make you say awdorable!