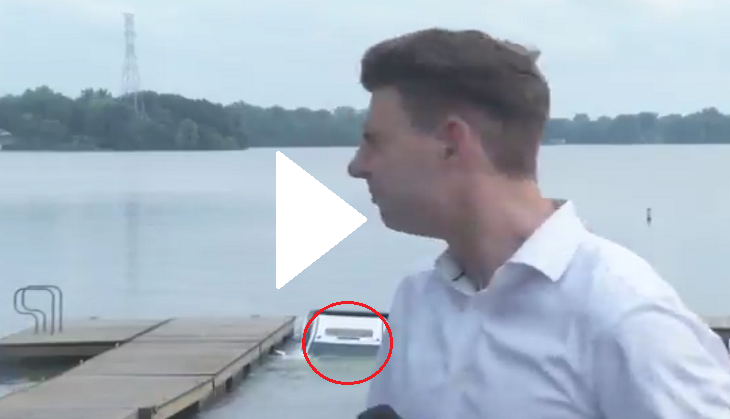 Screenshot from the viral video (Image Source/Twitter)
A video of a car sinking into a lake during a live news programme has gone viral on social media. After seeing the visual, the reporter also left shocked and asked the cameraman to record the incident.
WCIS reporter Jakob Emerson was on the scene reporting on a proposed project to build a second artificial lake in the area. In the background of the video, a car can be seen slipping into the reservoir behind it. However, Emerson was busing in doing his reporting but when he was aware of what is happening behind his back, he stepped out of the shot and asked the cameraperson to focus on the sinking vehicle instead.
Within 25 seconds, the car fully submerged into the lake. Luckily, no one was inside the car when it sank into the lake.
The video was shared by football writer Brian Floyd on Twitter.
Check out the video:
🇺🇸🇺🇸🇺🇸 pic.twitter.com/Uah0acNmeD

— Brian Floyd (@BrianMFloyd) August 4, 2021

"Most of them have a very gradual decline, this one seems to drop off relatively quick," Sangamon County Emergency Management Office Director Bill Lee told WCIS.
The Sangamon County Rescue Squad also confirmed that the vehicle was empty when the incident took place. No injuries were reported.
Also Read: Husband falls into muddy water; here's how his wife reacts
Meanwhile, the video has gone viral on social media platforms and left netizens stunned.
That cameraman did a disservice to us all by not keeping those people in the frame.

— george wilson (@GeorgeWilson_HI) August 4, 2021
Wonder how they're going to explain that to the insurance company. But I'm an excellent driver.😂😂😂 pic.twitter.com/2X5MHdMjFn

— Chris Nowicki (@ChrisNowicki65) August 4, 2021
Great investigative reporting- anyone IN THE TRUCK? How about calling 911? Let's just keep the camera rolling to see if anyone is able to release their seatbelt, open the door & get to the surface. FFS.

— Menopausalinsomniac (@Menopausalinso1) August 4, 2021
when you're trying to explain how you forgot about the parking brake. 🛻🌊 pic.twitter.com/pyKkCq9IuG

— Reggie Newton 🇺🇸⚖️🏛🌈🌊👊🏿🎸😷 (@reggienewton22) August 4, 2021
I'm betting the driver didn't set the brake and got out.

— Kim "resistance is NOT futile" (@goblynn_queen) August 4, 2021
The viral video has garnered over 522k views and 3,848k likes on the microblogging site.
Also Read: Bride pushes groom and photographer into water during photoshoot; video will make you go ROFL!