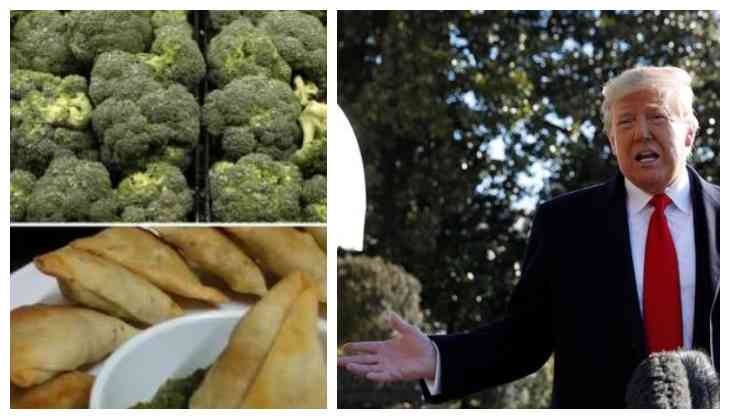 India's most anticipated guest and US President Donald Trump has arrived in India today at around 11:35 am. He has been accompanied by his wife Melania Trump, daughter Ivanka Trump, son-in-law Jared Kushner and other US officials. To make Trump's maiden trip to India memorable, PM Modi leaves no stones unturned.
All arrangements have been made for President of the US (POTUS) visit to India. Trumps have been received by Prime Minister Narendra Modi at the Sardar Vallabhbhai Patel International Airport in Ahmedabad, Gujarat.
After arriving, they have visited Sabarmati Ashram to pay tribute to Mahatma Gandhi and then participated in the mega event i.e. 'Namaste Trump' held at Motera stadium (world's largest cricket ground).
Donald Trump cavalcade also proceeded towards Agra to see the Taj Mahal along with Uttar Pradesh CM Yogi Adityanath.
However, for Trump's visit, the arrangements have been made at a grand level, including an elaborate menu, with a lot of vegetarian dishes. The extravagant facilities have also grabbed the attention of many.
The menu decided for Donald Trump has been shared on Twitter by a journalist.
Check out the list:
Hi tea ☕️ menu for @realDonaldTrump at Sabarmati Ashram. Khaman, Samosa & Kaju Katli!! @MilanV @AyresAlyssa @irfannooruddin @gandhiwdc @jslaternyc @SBengali @slakster pic.twitter.com/AVuX9I73vW

— Mahesh Langa (@LangaMahesh) February 23, 2020

The food that will be served to President of the US and the First Lady of the US is like apple pies, Khaman, Kaju katli, variety of teas, assorted cookies, tender coconut water and other. But the item that has saught the attentions of netizens is broccoli and corn button samosa.
After knowing about the bizarre combination, Tweeple can't keep calm and started slamming the chef for twisting the popular snacks.
Check out hilarious reactions on Broccoli Samosa:
बिहार से लालू निकल गया और समोसे मै से आलू!!

— Janak Pandya જનક પંડ્યા (@janakp14) February 24, 2020
Have heard of Honey Cookies.. but Honey Bee Cookies is something next level ?

— TheBeardGuySpeaks (@BeardGuySpeaks) February 24, 2020
Broccoli samosa🤮🤮🤢🤢🤮🤮

— sadguru fan (@StoneCo68492641) February 23, 2020
Trump k jane k baad saare officers tut padenge naashte pe

— Gaurav R@¡ (@GauravRaiAatish) February 24, 2020
The correct term is 'High Tea' 🙈 Wish we could hide this spelling mistake behind a wall !!

— Sue Me (@IAmHighOnHeels) February 24, 2020
What's your opinion on this bizarre menu of Donald Trump which includes broccoli samosa?
Also Read: Donald Trump's daughter Ivanka Trump chic outfit for India visit costs Rs 1.7 lakh but it's 'repeated'!