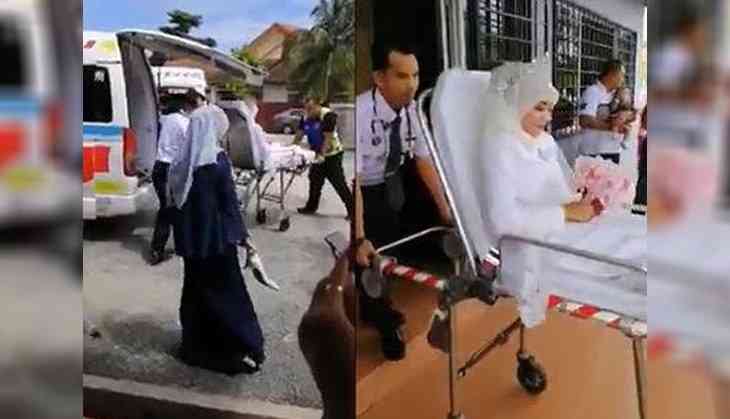 A wedding is the most auspicious moment of anyone's life and to make it a more special couple they tried every sort of thing. While many tried some unusual things to grab the headlines. One such bizarre wedding ceremony has come to light on the Internet which has left everyone stunned.
In the viral video, a bride and a groom can be seen arriving at their wedding reception venue in an ambulance. The clip shows the Malaysian couple arrives at the venue.
The harsh sound of the ambulance siren will make anyone think that there is an emergency.
But what happened next made everyone surprised.
See video:
When the ambulance stopped then the bride and groom come out of the ambulance. The groom dressed in a paramedic uniform while the bride was wearing her bridal gown. Later, the groom took the bride to the hall via wheels.
While the other ambulance was spotted carrying the family members of the newlywedded couple.
According to the reports of The Star, a statement released by the ministry quoted that the emergency vehicles were private ambulances, and the groom had rented it for the wedding.
"The groom is an assistant medical officer who has completed his compulsory placement programme and wanted to make a memorable wedding by using those ambulances and dressed in his work uniform," the statement said.
The four-minute-long video has gone viral on Facebook. The viral video has garnered over 1.97 lakh views and also received 530 times and over 200 shares on social media.
However, the video doesn't go down well with netizens as many users criticized the idea. Many users said that this is not the right way to use the ambulance.
Also Read: Bizarre! Couple throws Rs 14 lakh cash along with garbage; know what happened next!