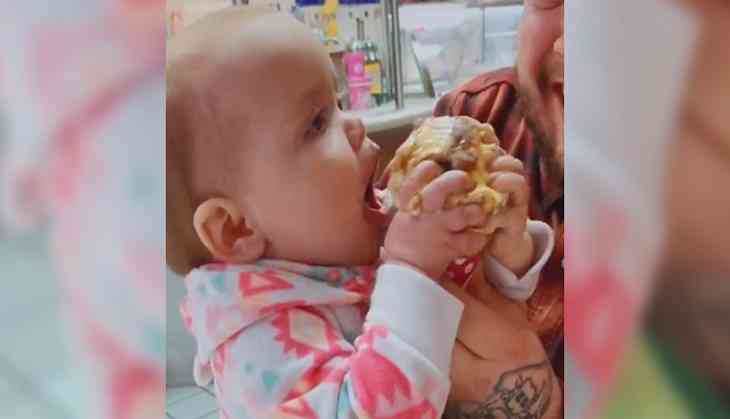 The first step, first word and many other things done by a baby are always special for his or her parents. Because it is the memory that stays in the heart in the last breathe and reminds the activities that a child does according to the age. Nowadays, parents capture the activities of their child in their smartphones and also shared it on their social media account as well. One such cute video of a toddler has surfaced the Internet in which she tasted the ice cream for the first time.
The awdorable video was shared by Blakely Rose's mother Brittani Jernigan on TikTok. Now, it has been circulated on all social media platforms and making people go crazy.
In the clip, a little girl Blakely can be seen tasting ice cream. How she reacted after eating the ice cream has flooded the Internet with several reactions.
Check out the video:
Baby : I think this is the first and last chance to eat this Heavenly made ice cream 😋 😋 😋😋 😋😋 😋😋
🎥 From: CCTV_IDIOTS pic.twitter.com/cgAN3atzWo

— Deepak Kumar (@DeepakK73871382) January 21, 2020
Typical response to meeting Morgan and her boobs for the first time....https://t.co/FzDqHdMdLf

— Bill Lee (@thinkingnaughty) January 22, 2020
this is so cute... https://t.co/khCZyfYYdK

— thorn (@athorny) January 22, 2020
baby's first taste of ice cream 😂 https://t.co/bdsYG2Bf3s

— binary smasher (@kiwinerd) January 21, 2020
When someone hands you pizza rolls at the aid station... 🍕https://t.co/pQJwXnml5A

— Jeff (@JeffRunsWild) January 21, 2020
Omg!! Ive never seen a kid want icecream that badly🤣🤣🤣🤣🤣🤣

#TikTok https://t.co/MJDyfjHaf2

— RÖDTOTTEN (@Rodtotten) January 21, 2020
How dieting is going. https://t.co/I21dCfgSQ6

— melissadshaw (@melissadshaw) January 21, 2020
Meanwhile, the video has garnered over 3.8 lakh likes and more than 3,900 comments on TikTok.
Also Read: OMG! Kid stumbles out of moving car; video will make you say 'thank God'