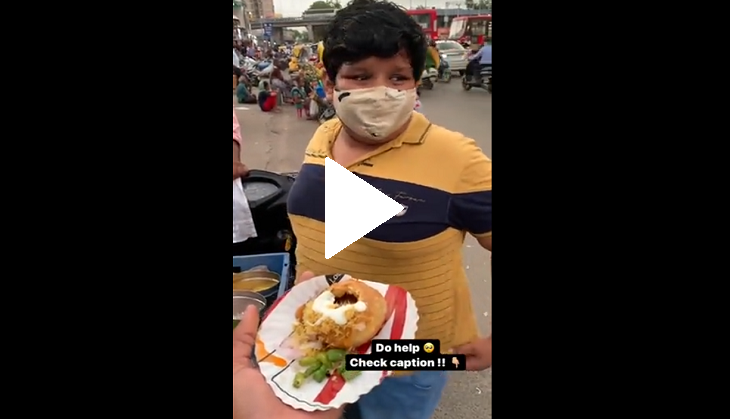 14-year-old boy sells Dahi Kachori at a roadside makeshift stall; reason will bring tears in your eyes
A video of a 14-year-old boy from Ahmedabad, Gujarat, is leaving social media users emotional. Instead of getting an education and living his teenage life, the boy is forced to sell 'Dahi Kachori' due to the financial challenges in his family.
The video of the teenage boy has gone viral on social media. The clip of a young boy was shared by food blogger Doyash Pathrabe of Nagpur.
In the viral video, the boy can be seen selling 'Dahi Kachori' at a roadside makeshift stall opposite Maninagar Railway station Ahmedabad.
While speaking to Pathrabe, the young had tears in his eyes as prepares food for consumers.
Sharing the video on social media, Pathrabe captioned the video, "Do help him. He is just 14 years old and selling Dahi Kachori only at Rs 10. Opposite Maninagar Railway station, Ahmedabad, Gujarat. So so proud. Need this to be shared and help him. He is just 14 and is helping his family and working hard on it."
See video:

Since the video is being shared on social media, netizens also urged locals to visit his shop to help him.
Later, a video was shared on Twitter by an unverified user which showed many people gathered at the 14-year-old boy's stall to eat kachori.
Ladka famous ho gyaa 🍻🍻 pic.twitter.com/eY7y2ei1DG

— Vishesh malhotra (@1992_Vishesh) September 24, 2021
Thanks to social media users who helped the boy amid challenges that life throws at him.
Last year, a YouTuber Gaurav Wasan also helped the elderly couple running a food stall in Delhi's Malviya Nagar. He helped the couple struggling to meet their needs during coronavirus lockdown. The video of Kanta Prasad and his wife Badaami Devi went viral and they became popular on social media. Hundreds of people visited 'Baba Ka Dhaba' food stall in Delhi to buy their food while many clicked selfies and donate money for the elderly couple.
Also Read: 5-year-old girl climbs wall like a spiderman; video will leave you rubbing your eyes