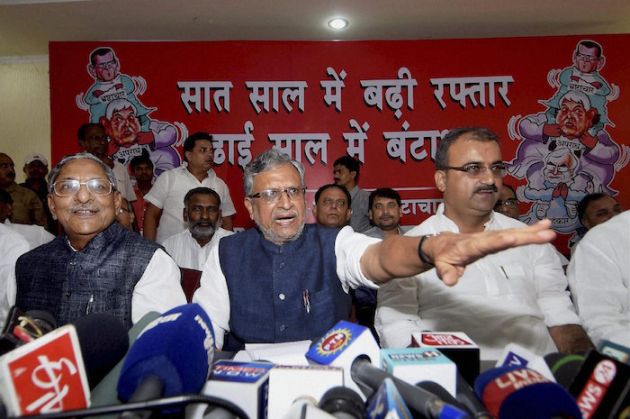 BJP leader in Bihar Sushil Kumar Modi slammed Chief Minister Nitish Kumar for taking undue credit for the development in the state. While addressing the media in Patna on 31 July, Modi said, "It is being very unfair on the part of the chief minister to take credit for the performance of the government during its two (consecutive) terms. BJP was very much part of it for seven years ... He (Kumar) should have given credit to us too for all good works happening in Bihar."
Sushil Modi, who is the former deputy chief minister, also released BJP's report card to counter the one released by Kumar a couple of days ago. He sought to sum up the state government's performance over the past decade with the slogan 'Saat saal mein badhi raftaar, dhai saal mein bantadhar (Bihar has marched forward for seven years, but things have gone awry in the last two and a half years).
Referring to Nitish Kumar inaugurating a slew of projects for the state recently, he said all those projects were conceived in the first term by the NDA government in Bihar and that too by departments held by the BJP ministers.
Over the past two years, he claimed, Bihar has been facing political instability with crime, corruption and lawlessness ever since RJD, Congress and other smaller parties have supported JD(U) to run a fragile government for remainder of its current term.
"How will you describe the political situation in Bihar other than as instability when you get three chief ministers in 25 months?" Modi asked referring to Kumar's resignation and Jitan Ram Manjhi's appointment to the post after JD(U)'s drubbing in the general elections last year.
Further, Sushil Modi dared Kumar to contest the coming assembly polls on his standalone achievements and claimed that voters will punish him this time as he had betrayed 2010 mandate which had given NDA a 'double wage'.
The electorate will not vote for the JD(U) and the secular alliance for retracing Bihar back to days of 'jungle raj', but trust the NDA to deliver the goods as it had done so in the first seven years of the Nitish Kumar government, the senior BJP leader claimed.
On the government's performance, he said the footfall of foreign tourists have significantly declined in Bihar, while the growth rate and revenue collection nosedived considerably over the past two years as "the disoriented JD(U) government searched for political support for survival in power".
Alleging that Kumar lacked ideas for development, the senior BJP leader said the chief minister has implemented all 34 decisions taken by the Jitan Ram Manjhi cabinet with minor modifications.
On Kumar rolling out various development and welfare schemes months before the polls, Sushil Modi said "One cannot score a century by hitting fours and sixes in the final over of a match."
PTI