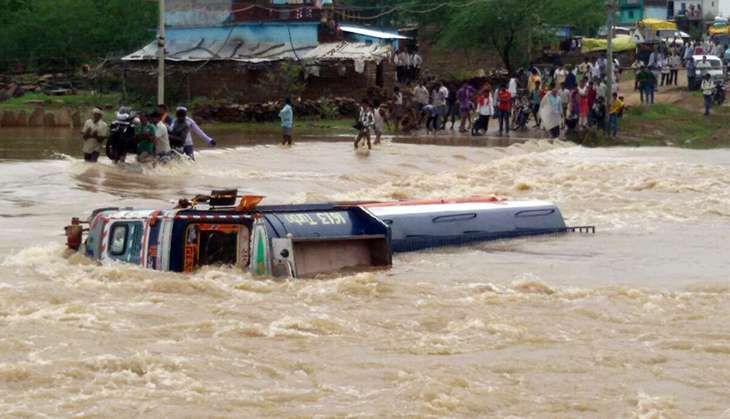 At least 34 people have lost their lives so far and several houses have been damaged after heavy rains lashed Madhya Pradesh this year, a senior state official said today.
Since the onset of monsoon in the state, Jabalpur has seen seven rain-related deaths, followed by six in Panna and five in Bhopal.
Three people died in Vidisha, two in Sagar and one each in Raisen, Rewa, Mandla, Tikamgarh, Seoni, Damoh, Shajapur, Sehore, Agar, Chhindwara and Ashoknagar, an official of the state Public Relations department said.
Additionally, 2,487 houses were completely damaged, while 19,283 suffered partial damage in the excess rainfall, he said.
Since the last two days however, the state capital Bhopal has witnessed very few showers after last week's downnpour.
This month, 34 districts in the state have recorded above normal rains, 14 districts received normal showers and three saw below normal rains, the official said.
The districts where rainfall has been above normal include Jabalpur, Katni, Chhindwara, Seoni, Mandla, Narsinghpur, Sagar, Damoh, Panna, Tikamgarh, Chhatarpur, Satna, Umaria, Alirajpur, Indore, Dhar, Khandwa, Ujjain, Mandsaur, Ratlam, Dewas, Shajapur, Morena, Guna, Shivpuri, Ashok Nagar, Bhopal, Sehore, Vidisha, Rajgarh, Hoshangabad, Betul, Raisen and Harda.
Normal rainfall has been recorded in Dindori, Rewa, Shahdol, Sidhi, Singrauli, Jhabua, Khargone, Barwani, Burhanpur, Neemuch, Sheopur Kalan, Bhind, Gwalior and Datia districts.
Below normal rainfall has been recorded in Balaghat, Agar and Anuppur districts, he added.
-ANI