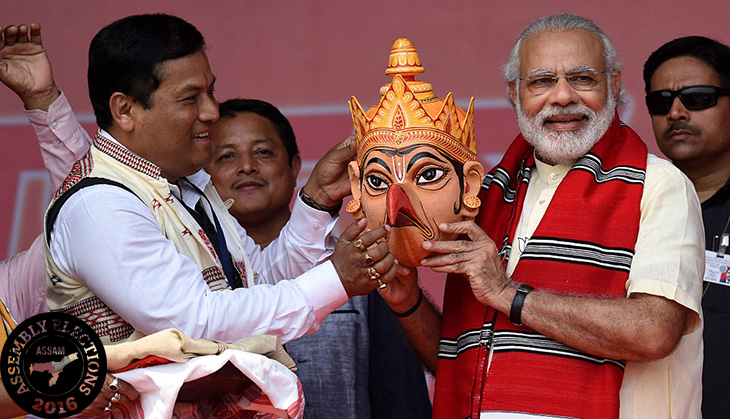 In little over an hour, Sarabanada Sonowal will be sworn in as the 14th Chief Minister of Assam.
Prime Minister Narendra Modi is expected attend the swearing-in ceremony - a momentous occasion for the Bharatiya Janata Party (BJP), which won a historical mandate in the recently-concluded assembly elections.
According to sources, the state cabinet will comprise 11 ministers, including Sonowal, and two each from BJP's allies - the Asom Gono Parishad and the Bodoland People's Front.
The list, which was submitted to Assam Governor Padmanabha Balakrishna Acharya early on 24 May, reportedly contains the following names:
Himanta Biswa Sarma: BJP's campaign chief and former Congress strategist, who is credited with having ensured a smooth win for BJP in Assam
Parimal Shukla Vaidya: Old BJP hand from the Barak Valley from Bengali speaking area of Assam
Pallab Lochan Das: Congress rebel and Sarma' supporter. Das along with nine other Congress MLA including Sarma had walk out of the party revolting against Tarun Gogoi.
Others expected to make it to the cabinet are Naba Doley, Tapan Gogoi and Ranjit Dutta.
The allies will be represented by AGP's working president Atul Bora, senior AGP leader, Keshab Mahanta, and Pramila Rani Brahma and Rabiram Narzary of the BPF.
Surprisingly, former Assam BJP chief Siddhartha Bhattacharya is not a part of the speculated list.
Himanta Biswa Sarma, who was reportedly bargaining for deputy chief ministership, is expected to be given two major portfolios.