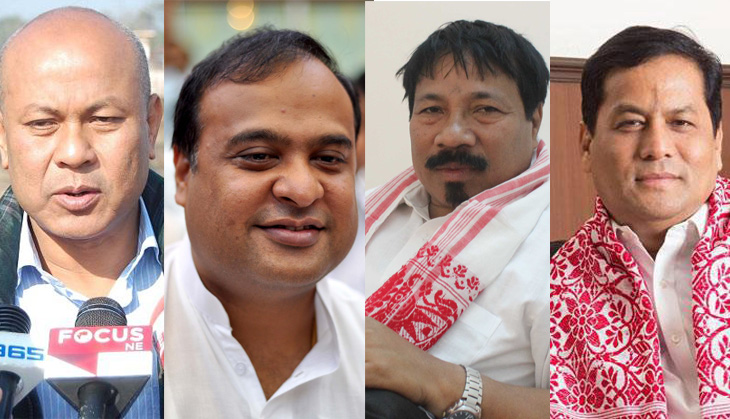 The Bharatiya Janata Party (BJP) is on a roll in Assam. The saffron party along with its allies Asom Gono Parishad (AGP) and Bodoland People's Front (BPF) has won or is leading in 87 out of 126 seats, according to the Election Commission website. The score for Congress and All India United Democratic Front stand at 25 and 13, respectively. While there is no doubt that NDA is forming the next government in Assam, the focus has now moved to individuals.
Sharbananda Sonowal: BJP had projected Sonowal, a Union minister and a former AGP member, as the chief ministerial candidate. He was fielded from Majula, the seat of Vaishnavite culture in Assam. If one is to believe rumours, then Himanta Biswa Sarma ensured a difficult seat for Sonowal. Had Sonowal lost, Sarma would have been the clear alternative. But that's not happening. He won by 19,000 votes. And will be the next Chief Minister of Assam. With BJP nearing majority on its own, the road ahead is smooth for the former Ausu member.
Himanta Biswa Sarma: This former protegee of Tarun Gogoi has the highest margin (lead) in the Assam results so far - nearly 90,000 votes. With Sonowal as the CM, chances of Sarma staying back the state is minimal. Sarma is being credited with this massive win for the BJP alliance. He worked closely with the central leadership led by Ram Madhav during the campaigning. In all probability, he is moving to the Centre in a swap with Sonowal.
Atul Bora: The working president of AGP was the main force behind the BJP-AGP alliance. In spite of opposition from senior party leader and former chief minister Prafulla Kumar Mahanta, Bora stood by his decision. Bora is now leading in Bokakhat constituency (where he lost the last election) by 36,000 votes. He is certainly going to be awarded with a plump portfolio, or at the very least he will bargain for it. Rumours suggest home ministry.
Hagrama Mohilary: This BPF leader is another key ally who is expected to get a key portfolio. His party has also managed to perform well and is almost neck-to-neck with the AGP. A major representation of the Bodos in the state cabinet is a given.