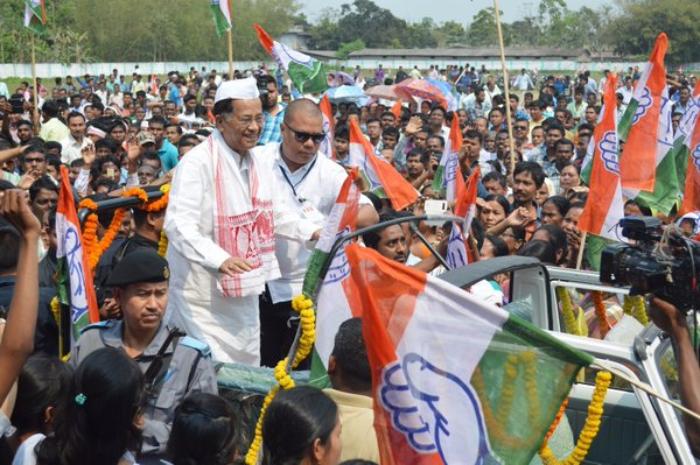 Chief Minister Tarun Gogoi played down fears of anti-incumbency in the upcoming Assam Assembly elections, as he filed his nomination papers from the Titabor constituency in Jorhat district on Friday, 18 March.
Gogoi, who will complete his third consecutive term as Assam CM in May, has been elected from the constituency during the last three Assembly elections.
Titabor, traditionally a Congress stronghold, is likely to see a close contest this term, with BJP fielding a strong candidate in Kamakhya Prasad Tasa.
Tasa, who is the vice-president of the BJP state unit, was elected MP from the Jorhat constituency in 2014, and garnered a large number of votes from the Titabor pocket.
However, a confident-sounding Gogoi said he still had the faith of the local population. "There are very few people of my age still around in Titabor, and most are my son's and brother's contemporaries, but their faith in me has made me confident about my party's prospects in the ensuing polls," he told reporters.
Titbaor, along with 64 other constituencies, will go to polls on 4 April, a week before the second phase. The 80-year old said the Congress would gain an absolute majority during the elections, and played down the prospects of BJP, who won seven of the 14 Lok Sabha seats from the state during the 2014 general elections.
"We will have an absolute majority. To have an absolute majority, a party must win at least 64 seats. We will win more than 64 seats," he was quoted as saying by Hindustan Times.
Taking a dig at Prime Minister Narendra Modi, who is scheduled to address six rallies in the state on 26 and 27 March, Gogoi said, "Modi is a good marketer. He has good marketing strategy but products are hollow."
"Modi made many promises to the people of Assam during the Lok Sabha election two years ago but after assuming power at the Centre, he made a U-turn on all crucial issues concerning the state. There is no Modi magic in the country now," he added.