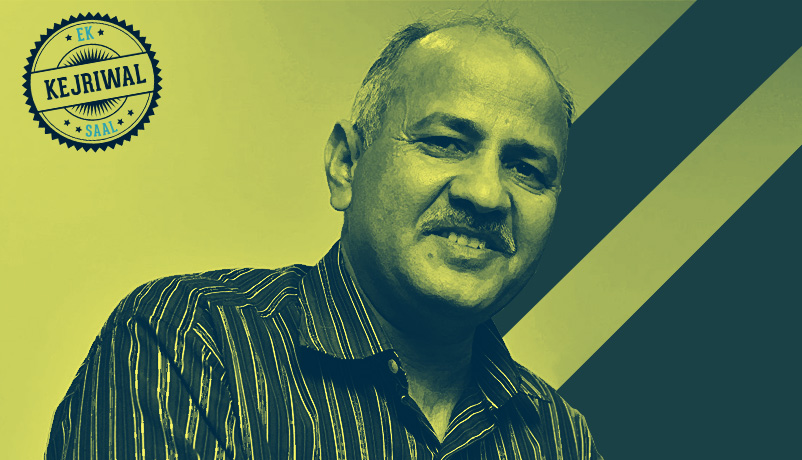 The achievements
Delivery on promises - like those on water, power
Simplifying governance to make lives easier
Putting faith in the babus, empowering them
Stumbling blocks
The Centre - an impediment at every step
High Court stay on scrapping pvt school management quota
Flak on pushing up MLA\'s pay & perks
More of Sisodiaspeak
What happened to Jan Lokpal?
What about statehood for Delhi?
Why this cult status for Kejriwal?
It's hard to decide whether Delhi's Deputy Chief Minister has transformed into a full-fledged politician: During this interview, Manish Sishodia stopped his car - he travels without any escort or security cover - when he saw a group of boys cleaning up the pillars under a flyover.
He stepped down and chatted with the group for some 15 minutes, praised their volunteering effort, posed for pictures, gave them his mobile number and promised to attend their next drive.
Read: For the people of Delhi, #EkSaalKejriwal has been an unmitigated disaster
With no election 'round the corner and the place not even being his constituency, what made him to this? Sisodia said he saw his dream of citizen action coming true.
As the Aam Admi Party-led Delhi government completes a year, the next-in-command to Chief Minister Arvind Kejriwal opened up to Catch:
Q: Having completed two years in politics and one full year in government, would you say you are finding the rough and tumble of politics challenging?
Well I think there was more rough and tumble during my days in journalism, but its challenging nevertheless.
I had never thought of entering politics. Even the day we decided to form a party, I didn't visualise myself contesting polls and entering the government.
We thought we will form a party and bring some good people together. That I will be contesting elections myself, I never imagined.
'We are here to work for people. Not to prove theories right or wrong'
What we indeed felt we would do was to reach close to politicians and governments as some kind of a pressure group to bring about a policy changes, for which there was always a sort of wriggling feeling inside. But never thought we would have to do this ourselves.
Q: How successful do you think you have been in bringing about those changes in this one year?
This one year was just a beginning. We can divide it in two-three parts:
One, delivery - decisions such as electricity and water rates.
Two, governance. What I mean by governance is to make people's lives easy. The system shouldn't keep pushing the common man from one place to another, but should study his life to find out where he faced hiccups and bring solutions.
For example, e-governance has been in vogue for quite some time: apply online and get e-certificates. But nobody thought that for those certificates, the government seeks affidavits for which one has to run to a notary and then move from pillar to post at the sub-divisional magistrate's office to submit the originals.
Or you pay a tout. Net result, e-governance was only there in the name. Things hadn't budged an inch and the common man was still hassled.
We ended 200 types of affidavits and said all you need to do is to apply online get either your certificate or a definite response within a time-frame without hassle. And the its your property: download it and make 50 copies if you want.
Also read- #EkSaalKejriwal: We have achieved some things. Many more are left
This is real e-governance. What I am trying to say is when we say governance, we often talk of big things when the real problem is in the nitty gritty. We have unraveled those knots and have made lives easier for the common man.
Third, decentralisation. One the one hand, we trust the head of a department so much that we give him a Rs 5,000-crore budget and empower him to decide on building roads and running schools. On the other, if he needs visiting cards worth more than Rs 200 a year, he needs a Finance Department permission. Or if he has to hire a car for over Rs 10,000.
What a joke! You know why this used to happen? Because every file reached the Finance Minister who would demand a cut.
We have changed all that. Not only have we empowered our officers, we have placed faith in them. Random inspections are always there to unearth malpractices.
These are internal changes, which won't be visible to you. But their impact would be.
In the last two months, 40% applications for various certificates were processed online - a big thing! It means change has come into the lives of 40% people.
'The personality cult is time-based. There's nothing wrong in it'
Then there is the issue of using infrastructure wisely: stopping the inherent bribery in the system. This is a different kind of governance. You saw the example when the Delhi government saved Rs 350 crore in the construction of three flyovers.
The change that people expect of us is not to build five flyovers instead of four. But to build those the four without dishonesty.
Q: The Congress will mark your anniversary by observing a chhalaawa divas (Day of Deceit). They say you have only fooled people. How do you respond to Ajay Maken's allegations that in this one year you didn't build a single flyover, road, school or hospital?
The people of Delhi have rejected the thought process of Ajay Makenji and his party. According to them, let everyone take a cut, but buildings must come up. I believe it's the work in the buildings that's important.
Nothing was happening in 700 government schools they constructed. People sent me here because they want not just those 700 buildings, but teaching inside them. If I fail, people will send me back to where I came from.
Q: Speaking of schools, you initiated a survey of government schools' infrastructure in your first term. What's the progress?
We completed the mapping process in the first two-three months. Now, work is starting based on that: 8,000 new rooms are being built. The Delhi Jal Board has ensured there's no shortage of water - at least for drinking and toilets.
Second, we have started giving them a facelift to make the schools look better. Students should feel confident when they go there.
Read more- AAP's Sanjay Singh: We all accept Kejriwal's leadership. What's wrong with that?
Even earlier, money used to be sanctioned for such things, but would be siphoned away. That doesn't happen any more.
Q: Another school-related issue your government took up was scrapping the management quota in nursery admissions. Is the court stay a setback? Do you feel deterred?
See, at least 25% seats are safe as the process for reserving them for economically weaker section families is now online. So, the problem remains with the remaining 75%.
We have appealed to the Delhi High Court against the single-judge order. The hearing is on. Let's see.
We'll fight until the end as it's a big necessity. Private schools contribute much in providing quality education in Delhi. But they can't be allowed to loot the people: Rs 10-15 lakh for admissions, arbitrary fee hikes.
There has to be some rationale. We will fight as long as legal options are available.
My argument is simple: Education is not a business. It's a task for nation-building. The government is doing its job and the private schools are also a part of the government, in this respect.
Q: How?
In this country, schools are not set up under the Companies Registration Act. They are set up as trusts.
You can not make profit out of education. If you want to make money, take up a high-paying job or set up a factory. But you want to be known as an educationist and profit at the same time.
'We'll have to fight and we are fighting. Nobody has been as aggressive as us'
And no ordinary profit: today anybody running a business initially makes a maximum profit of 10-20%. You spend Rs 100 and earn Rs 120-125. But in the education sector? You spend Rs 100 and earn Rs 350.
These people have turned it into the biggest profit-making business. That's crime in the name of a trust.
Set up a company. The day this country allows you to set up an educational institute as a company, make your profits. Till then, at least I will not allow that.
Q: Another criticism Maken has levelled is that the government has enabled MLAs to buy cars worth Rs 12 lakh and take vacations worth Rs 15 lakh on public money.
He should say what the earlier amount was. I want to understand the dynamics that enabled Congress MLAs to maintain palatial houses and big cars, send their children for studies abroad on a salary of Rs 55,000.
I have not been able to understand this. If they can explain how to do all that without dishonesty, I will reduce the salaries of my MLAs to Rs 45,000.
Q: The Congress has been punished in the elections for corruption. What's your stand on big salaries and allowances for public representatives?
Of course, they shouldn't be entitled to fancy salaries. They should be entitled to practical salaries.
I am not saying give such fat pay-packets to MLAs that enables them to buy big bungalows. But give them a practical allowance. What's wrong in that?
Read- AAP experiment worked, but at the cost of the movement: Medha Patkar on #EkSaalKejriwal
The problem is the country's politics is based on assumptions. You assume an MLA will have 10-15 people around him to take care of his work and they will work for free.
Today, if you are able to get anybody above the level of a typist for a salary of Rs 15,000, please let me know.
Then you assume that the MLA will have a researcher, a data analyst, somebody with a social work background to deal with people, and all of them will work for free.
Nobody does. Instead a crowd of touts gathers around the MLA. We want MLAs to be surrounded by professionals. What's the harm if I want MLAs to be surrounded by professionals, at reasonable salaries like Rs 25,000-30,000, instead of touts, thugs and sycophants?
It's important that an MLA have an office and staff in his constituency so that there is an institutional record of work done. We will press ahead with this even if it sounds unpopular now. We have to make politics professional too.
'Part of media, corporates, politicians & bureaucrats have turned India into their personal property'
Q: Point taken. But why a Rs 12-lakh car and a Rs 15-lakh vacation?
I don't know where a Rs 15-lakh vacation has been mentioned. I will have to check.
For MLAs on official visit within the country is capped at Rs 2 lakh, I think. I don't remember the exact figure to which we have raised it, but yes I did say that this should go up. Its not a holiday package. I think that's a misrepresentation of facts.
And the car allowance is a loan. What's the harm?
Q: Does it go with your party's original message of simplicity in public life?
Suppose an MLA wants to buy two cars. Or even one worth Rs 12 lakh. What's the problem? I don't understand.
It was okay for the Opposition parties when corrupt MLAs bought some 10 cars worth crores. But they are unhappy if now an MLA is allowed Rs 12 lakh officially.
If that's the case, let it be like that. That's their politics. This is ours. Whatever we do, we do it practically and in front of everyone.
Q: Let's move on to your oldest issue: Jan Lokpal - on which the entire agitation that eventually sent you into politics was built. Have you forgotten it? Has it been put on the back-burner?
I just met Union Home Minister Rajnath Singhji and urged him to clear the Bill that we passed over a year ago. He told me he would look into it.
I don't understand what is the Centre's interest in preventing the formation of a strong Lokpal in Delhi. I think, just like all journalists are interviewing us on the completion of a year in government, they must ask the central government about becoming an impediment for us in this one year? How successful have they been and why do they do this.
Also read- AAP occupies exact space it promised to cleanse: Hegde on #EkSaalKejriwal
Q: What's your feeling? You regularly interact with union ministers. What's the vibe?
I feel ministers don't have too much of a problem. It's the top leadership that has still not been able to stomach our victory.
Q: You mean the prime minister?
Yes. Actually, it's not only the Prime Minister. Many forces work in cahoots - a section of the media, corporates, politicians and bureaucrats - have turned the country into their personal property. They benefit irrespective of who holds power.
Such forces have ganged up and they want to ensure that this experiment of honest politics in Delhi should be stopped somehow. They feel if it grows, people in other states will also find their Kejriwal, just like the people of Delhi did. Once that happens, many in the nexus will be forced to shut shop.
Q: But are you nudging the Centre it at all? Or have you given up on Lokpal?
Yes, we are doing it. That's why I met Rajnath Singhji last week. I will meet him again and request.
'What is the Centre's interest in preventing the formation of a strong Lokpal in Delhi?'
Q: What about your other central issue: statehood to Delhi? That, too, doesn't seem to be on the radar any more. According to a media report, an RTI query revealed that the Delhi government hasn't even put up a note with the Centre for it. Has this issue been relegated to the background?
The Centre must also be asked how many notes sent by us have they sanctioned. We know Delhi needs full statehood. But it wont happen through a simple note. We will take that up too.
As of now, the situation is that the Centre is impeding work under the three subjects for which we don't need its permission. Besides, why does the Centre need a note from us for Delhi's statehood? It was a promise in their own manifesto!
Q: It is about a simple note. Do you find this criticism valid that you are not pursuing the matter adequately?
Our entire fight is for this one issue. Our struggle with the lieutenant-governor, which the media calls fighting, has only one objective - statehood. We are conscious that a note will not get us statehood. We will have to fight for it and we are fighting. Nobody has been as aggressive as us.
Q: How do you respond to the criticism of a personality cult around Kejriwal in the party?
He is a leader. Delhi gave us 67 seats in his name. Many people did not even know who was contesting the polls in their constituency. They knew only one name - Arvind Kejriwal. Whats wrong in it?
Read more- High command, low tolerance: how AAP is failing itself
Q: You don't see anything principally wrong in the creation of a personality cult around one individual in a democratic political party?
Don't conclude a philosophy out of it. This is time-based. It happened at a particular time. I don't see anything wrong.
It is possible that something else might happen tomorrow, and in a new light it may seem a mistake. Then I will call it a mistake.
But what is the reality today? 54% of Delhi's population accepted Kejriwal leader. Why are we raising unnecessary questions?
'What's the problem if an MLA wants to buy a car worth rs 12 lakh?'
Q: So you are saying that this is as of now?
Yes. It's possible that there might be another strategy tomorrow.
Q: There will be a different strategy in Punjab?
In Punjab, we have just made a beginning and ground-level work is going on. At this point, people across the country - not just in Punjab - are looking at Kejriwal with hope.
I don't understand why then should we tell them that Kejriwal will be behind the scenes and you vote for us based on what we are saying.
We are not here to establish theories. We have to work for the people and solve their problems through politics. Not prove theories right or wrong.
Edited by Joyjeet Das
More in Catch:
Heart Attack: inside the crazy, colossal $19 billion Valentine's Day industry
U-19 World Cup Final: Why India will pip Australia to most number of titles
Deadpool: Foul-mouthed. Gore-fest. Arguably the funniest superhero movie ever
National Herald Case: Rahul and Sonia have little reason to be relieved