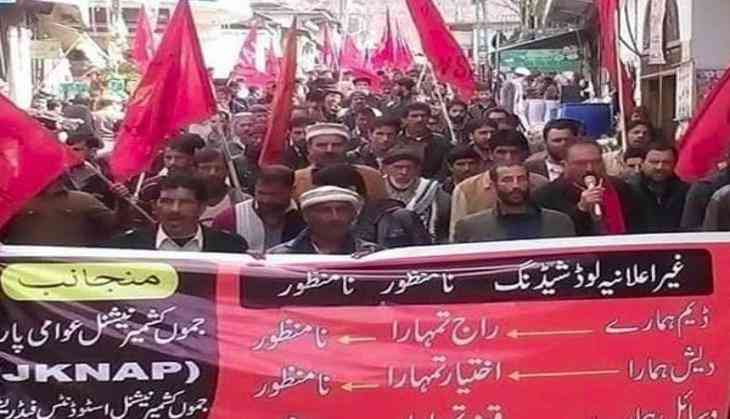 Widespread protests have erupted across Pakistan-occupied Kashmir (PoK) and Gilgit Baltistan against Pakistan's ill-treatment of the region and its people.
In Gilgit-Baltistan, people have come out onto the streets shouting anti-Pakistan slogans and rejecting the Pakistan Government's enforced taxation.
Markets and business establishments remained shut and traders in large numbers gathered in major cities, including Gilgit and Skardu to express their anger against the imposition of `illegal' taxes by Islamabad.
They called on the government to withdraw all taxes imposed in Gilgit Baltistan under the GB Tax Adaptation Act 2012. The protest call was given by the Anjiman-i-Tajran and the Awami Action Committee (AAC), and backed by all political and religious parties in Baltistan.
Addressing a gathering in Skardu, Basharat, an advocate and member of Baltistan civil society, blamed Islamabad for its autocratic behaviour and for abusing the powers of the Baltistan">Gilgit Baltistan Council which is headed by the Prime Minister of Pakistan.
He said, "Gilgit-Baltistan Council is chaired by the Prime Minister of Pakistan. He definitely has no sympathy for Gilgit-Baltistan. If it was so, he would have taken decisions as per the convenience of the people of Gilgit-Baltistan. He never attends any meeting. It is very sad. The Prime Minister only endorses a plan designed by a section officer in Islamabad.
The protests will continue till the government meets the demands, the organisers have announced.
"This is the height of barbarism. We don't have any party to express our concerns. So, the people have no option but to block roads and go on strike. Now, the government will use force to demolish our campaign. For the past 47 years, they have kept us confined by dividing us on sectarian lines", said a protester.
In Rawalakot city, people came out onto the streets to protest against the discriminatory surge in load shedding hours.
The protest was organised by the Jammu Kashmir National Awami Party (JKNAP), which claimed that the PoK produces some 5,000 mega watts of electricity from five dams and 4500 Megawatts of that electricity is diverted to the Islamabad grid leaving the local people with just 500 Megawatts.
Sardar Liaqat Hayat, President of JKNAP, said, "We people are paying hefty bills despite having hours long load shedding. We all need to come onto the streets to protest for our right to free electricity. We need to give sacrifices as nothing comes free. Those who are getting everything free are the `moulvis' sitting in a mosque. Ordinary people have to fight for their rights".
The JKNAP has threatened to intensify its protest against Islamabad if their demands are not met.
It also blames Pakistan for exploiting resources from PoK and being responsible for the poverty and underdevelopment in the region.
-ANI