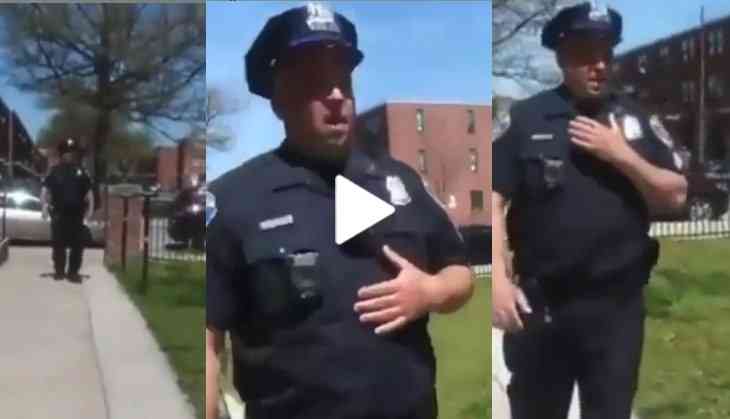 A distressful video has been widely shared on Instagram amid coronavirus fear across the globe. In the video, a white Baltimore police sergeant coughing at black people deliberately. The video has created a stir on the Internet and also leading to an internal investigation.
The shocking part was that the policeman didn't wear the mask or any protection, and intentionally coughing at black residents at a public housing project.
In the viral video, it can be seen the sergeant coughing without covering his mouth while moving towards the woman who was recording his activity, including at least two other people living at Perkins Homes in Southeast Baltimore.
'Ya'll get that s***, black people don't,' the woman yells at the passing sergeant, referring to the novel coronavirus. 'Cough your white a** back where you live at.'
Even after the woman is yelling at him, the sergeant consciously coughing at the residents. She also asked the officer that he needed an extra layer of skin.
She also told the sergeant, "ain't going to infect nobody but your co-workers."
See video:
Reportedly, a dozen of Baltimore police officers were tested positive for coronavirus and 115 others were in self-isolation as a precaution.
After this video circulated, the Baltimore Police Commissioner Michael Harrison said in a statement, "After watching the full video, its entirety, it is not only disturbing but incomprehensible, especially considering the high-level of strong and clear guidance that we have provided from the beginning, regarding COVID-19."
He also added that "Members are always expected to be sensitive and professional to the community, but what we saw in the video is alarming because this pandemic is affecting lives not only nationally, worldwide, but right here in our own police department."
Meanwhile, the bureau of public integrity is doing the investigation.
On the other hand, the video has drawn flak on social media.
The blasphemous video has been viewed over 205,000 times on Instagram.
However, the distressing video surfaced a day after a Baltimore police station reopened after it was sanitized as a cop was tested positive for the novel coronavirus.
Also Read: UK: Nurses forced to wear bin bags due to lack of PPE, tested positive for coronavirus