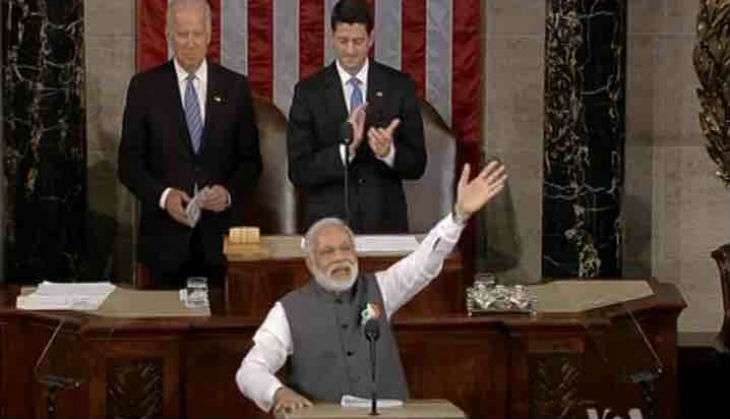 In his address to a joint meeting of the US Congress in Washington on 8 June, Prime Minister Narendra Modi made sure to touch upon a number of topics.
Yoga, Mahatma Gandhi, cross-border terrorism and Apple's Siri found mention in his speech. PM Modi received as many as eight standing ovations during his 46-minute-long speech, with US lawmakers cheering him on many other times.
Here are eight moments from PM Modi's address that got the US lawmakers to stand up and applaud:
1. "I applaud... India applauds, the great sacrifices of the men and women from 'The Land of the Free and the Home of the Brave' in service of mankind. India knows what this means because our soldiers too have fallen in distant battlefields for the same ideals. That is why the threads of freedom and liberty form a strong bond between our two democracies."
2. "Gandhi's non-violence inspired the heroism of Martin Luther King. Today, a mere distance of 3 miles separates the Martin Luther King memorial at Tidal Basin from the statue of Gandhi at Massachusetts Avenue. This proximity of their memorials in Washington mirrors the closeness of ideals and values they believed in."
3. "Connecting our two nations is also a unique and dynamic bridge of three million Indian Americans."
4. Today, they are among your best CEOs; academics; astronauts; scientists; economists; doctors; even spelling bee champions."
5. While referring is to his to-do-list he said, "To skill millions of our youth, build 100 smart cities, have a broad band for a billion, connect our villages to the digital world, and create a twenty-first century rail, road and port infrastructure. These are not just aspirations; they are goals to be reached in a finite time-frame. And, to be achieved with a light carbon foot print, with greater emphasis on renewables."
6. "Also, for us to succeed, those who believe in humanity must come together to fight for it as one, and speak against this menace in one voice. Terrorism must be delegitimised."
7."We are working together not just for a better future for ourselves, but for the whole world. This has also been the goal of our efforts in G-20, East Asia Summit and Climate Change summits."
And of course, at PM Modi's poetic conclusion:
8. "In the lines of Walt Whitman, the Orchestra have sufficiently tuned their instruments, the baton has given the signal. And to that, if I might add, there is a new symphony in play."
Watch the full speech here: