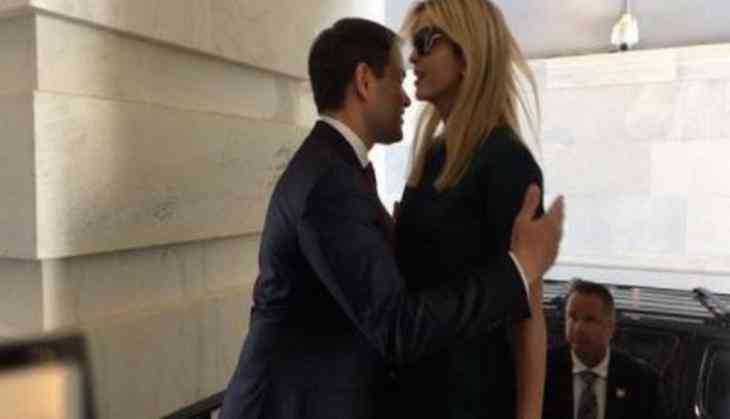 Twitter can't handle Republican Senator's 'failed hug' with Ivanka Trump
Republican Senator Marco Rubio opened a Twitter 'investigation' on Tuesday afternoon, after his meeting with U.S. President Donald Trump's daughter Ivanka Trump the same day went viral on twitter.
A photograph of the two in an awkward attempt to embrace was posted on twitter, following which the U.S. senator was trolled by twitteratis.
Marco Rubio hugs Ivanka like she's a giant bottle of water. pic.twitter.com/KgfoNTtb2O

— Diane N. Sevenay (@Diane_7A) June 20, 2017
Can you. Do you mind if I? Just a little. Okay. Here's. Are you okay with this? I just wanted to. Hi. Can I? Do you? https://t.co/ORVzdX3DF3

— Chris Tisch (@christisch1) June 20, 2017
Left in indignation by the twitter burst, Rubio in an act of defiance posted several photographs on twitter.
Just left Intel comm & informed meeting 2day with @IvankaTrump blowing up twitter over alleged failed hug! Investigating. Will respond soon

— Marco Rubio (@marcorubio) June 20, 2017
A few minutes later, Rubio expressed in a tweet that he has his own evidence to call the hug 'unattempted' and his team is seeking evidence for the same.
We believe we have our own unclassified photographic evidence that will shed greater details on this incident.

— Marco Rubio (@marcorubio) June 20, 2017
He posted pictures which provided an insight to the failed hug.
New photo emerges providing more insight into alleged failed hug. (Faces blurred for security purposes) pic.twitter.com/GzSLe3JD3I

— Marco Rubio (@marcorubio) June 20, 2017
BREAKING NEWS: Additional photo from moments right after today's alleged failed hug provide new details to this developing story. pic.twitter.com/TFyhB2cQuM

— Marco Rubio (@marcorubio) June 20, 2017
In his last tweet, Rubio concluded the case by asserting that based on his recollection of the incident, no hug was attempted.
Based on review of evidence & my own recollection, have concluded no hug was even attempted & press covfefe of alleged failed hug is false

— Marco Rubio (@marcorubio) June 20, 2017
Contradicting Rubio's tweets, Ivanka confirmed that there was a hug attempted.
Anonymous sources say @marcorubio planned the alleged failed hug. I have no comment (but I would have hugged him anyway! 🤗) https://t.co/TChrqWsL4D

— Ivanka Trump (@IvankaTrump) June 20, 2017
Fake news! Marco is an excellent hugger... https://t.co/Dk7XXRQlX8

— Ivanka Trump (@IvankaTrump) June 20, 2017
Earlier on Tuesday, Ivanka Trump was at the Capitol Hill to meet Rubio and other law makers to discuss "pro-family" tax reforms.
According to CNN, Rubio said that Ivanka had expressed in different elements which should be present in pro-family tax reform.
He said, "We wanted her and the White House to be exposed to individual members who have been working on pieces that I think can be part of that reform."
The President's daughter has been supporting the cause since 2015.
-ANI