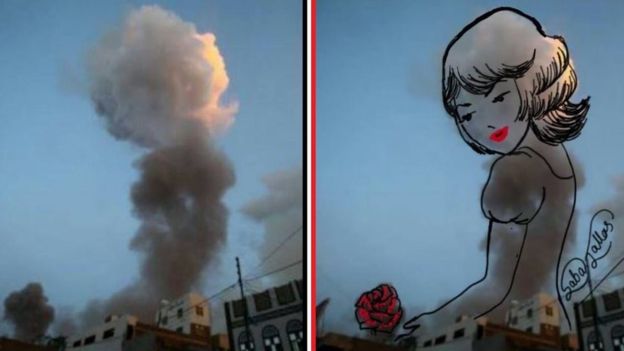 Yemeni artist Saba Jallas was struck by how sudden the Saudi Arabia-led air-strikes on Yemen seemed.
She turned to a group of Palestinian artists who turned pictures of bombings in Gaza into messages of resistance.
The Yemen war that started in March 2014 has claimed over 6,000 people as aid agencies grapple with airstrikes, famine and lack of medicines for civilians. As the opposing forces (Houthis) and GCC coalition - spearheaded by Saudi Arabia clash, the ground scenario is appalling.
As reported by BBC News, artist Saba Jallas was shocked by how sudden the Yemen war seemed. She tried grappling with the onslaught of war by looking for inspiration around the globe. And found it from a group of Palestinian artists who turned pictures of bombings in Gaza into messages of resistance.
She spent some months of the conflict trying to find ways to cope with its impact on Yemen. "I had to save myself from these negative feelings and overwhelming thoughts. I searched everywhere on the internet to find a way to get rid of these feelings," she was quoted as saying.
She decided to use her smartphone to draw her own messages on pictures of explosions and destroyed buildings in Yemen - turning scenes of devastation into ones of beauty and hope.
Below are some of her artworks:
Around 1.5 million people are displaced and the death toll has surpassed 6,000 in just seven months.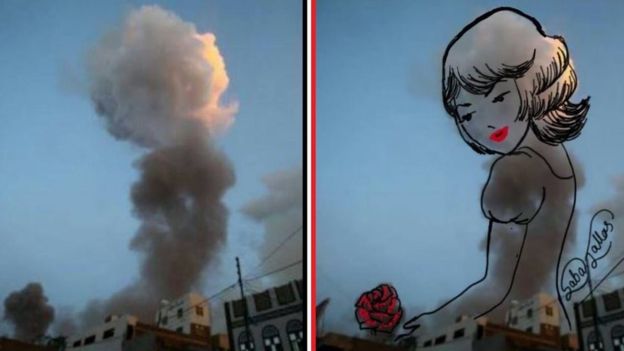 The Security Council has also claimed that the scale of human suffering is "almost incomprehensible".

An outbreak of dengue fever in Yemen's most populated governorate has prompted urgent calls from the World Health Organisation (WHO) for a "humanitarian corridor" to facilitate the flow of medicines to over three million civilians trapped in the war-torn area.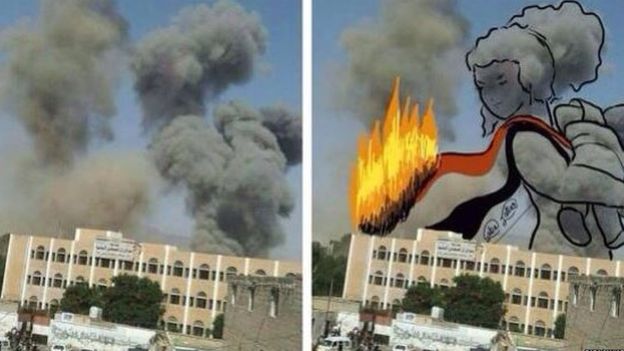 The latest reports from UNSC added that a staggering four in five Yemenis now need immediate humanitarian aid.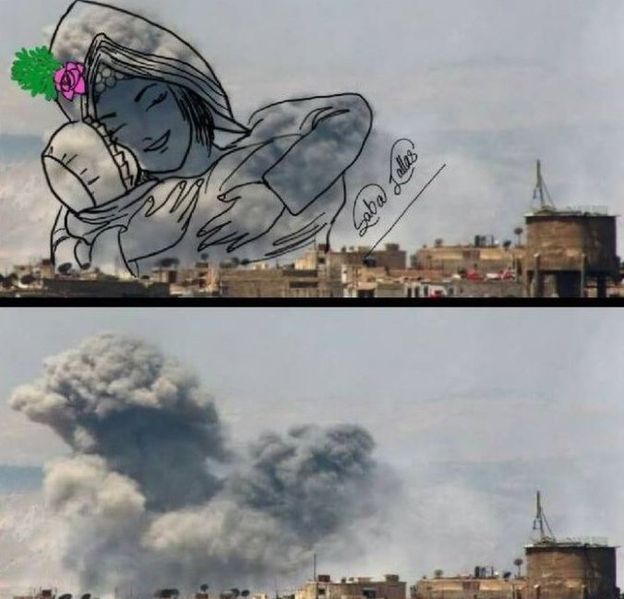 According to UN data, 7.3 million sick and wounded kids have not receiving medical attention.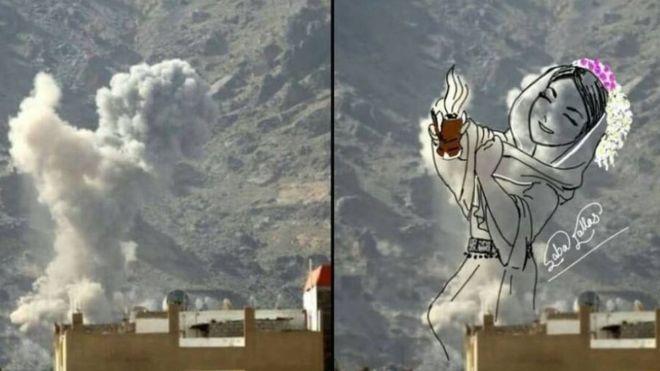 The latest update:
Government forces in Yemen clashed with fighters for control over the strategic southern port of Aden, Yemeni officials in the southern city told reporters on Sunday.
The officials said that fighters believed to be close to al-Qaeda have refused to hand over the port to the government of President Abd-Rabbu Mansour Hadi.
On Thursday, a drive-by shooting in Aden killed Ahmed al-Idrisi, a senior leader of a pro-government group, just hours after he reluctantly agreed to hand over control of the port to government troops.