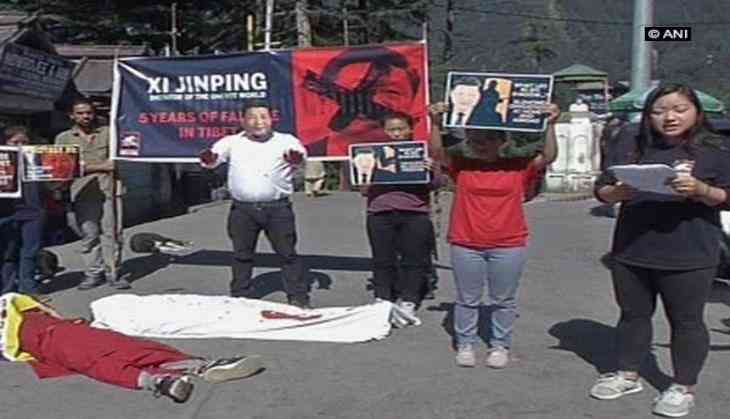 Students for Free Tibet (SFT), a Tibetan NGO for Tibetans' rights staged protest against Chinese President Xi Jinping in Dharamsala's McLeod Ganj.
The Tibetan activists gathered in the main square of McLeod Ganj and staged protest against alleged Xi's oppressive rule in Tibet.
The activists even held street theatre and was holding placard with slogans like - 'Free Tibet with from Xi bloody rule', 'Tibetan wants freedom', 'What lies in Xi's shadow.? Torture and death in Chinese prison' and others.
"We are here to protest Xi leadership that has been going on from last five years. We want to highlight the different atrocities that Xi's and his regime has implemented across Tibet and across occupied region in China. We hope that the protest will bring more international support and attention to what is going on," Sonam Tso, the organisations director told ANI.
The activists accused the Xi's government of restricting the travel of Tibetans internally in the state and increasing surveillance of digital communication.
Another SFT activist said the five years of Xi's government have been five desperate years in Tibet and added that the situation in Tibet, China and other territories occupied by People's Republic of China has gone from bad to worse since 2012.
Meanwhile, Tibetan Youth Congress activists also staged protest outside Chinese Embassy in Delhi.
They were raising slogans like raise 'we want freedom' and 'free Tibet'.
The Delhi Police later detained the Tibetan Youth Congress activists.
-ANI