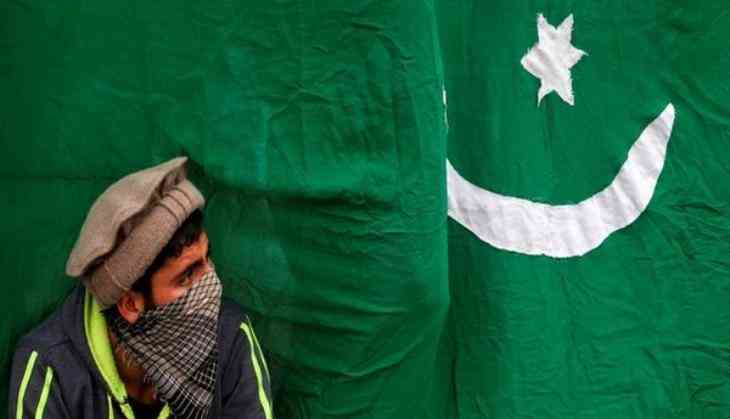 Terror supporting Pakistan responsible for its negative global image: Ex-envoy Haqqani (ANI)
Given the reality that many terror groups like The Haqqani Network and Lashkar-e-Taiba continue to operate from its soil, Pakistan must accept responsibility for its negative global image, said former Pakistan envoy to Washington Hussain Haqqani.
Speaking to Dawn TV this week, Haqqani said Islamabad must accept this as one of its major weaknesses and take firm steps to neutralize and counter these terror groups.
He also advised the Government of Pakistan that notwithstanding its firm stands on Kashmir, engaging peacefully with India should be a goal to be aimed for to ensure a calm neighbourhood. The Kashmir issue must not dominate the diplomatic discourse, he added.
He further said how can the federal government repeatedly deny the presence of terror groups before the whole world, when domestic media frequently carry reports of their existence.
On the Pentagon's decision to withhold disbursement of USD 350 million in aid to Pakistan, Ambassador Haqqani said this was a coalition fund made after the 9/11 terror attacks as the Bush administration wanted to help Islamabad immediately in the war against terrorism.
"To get out of a very complex process of reimbursement, the U.S. used to provide Pakistan with the funds for expenses which Islamabad claimed were spent for countering terrorism," Ambassador Haqqani added.
Haqqani maintained that Pakistan has erred in assuming that it was their right to demand funds from the U.S. in the name of fighting terrorism.
He recalled that when he was an envoy, Islamabad wanted to convert these funds into permanent aid for the country.
Haqqani said Pakistan will have to work according to the needs of the United States if it wanted access to such funds.
He emphasized that Washington wants Islamabad to specifically crack down on certain terror groups like The Taliban and The Haqqani Network and was simply not interested in hearing Islamabad oft-repeated claims of countering terror.
He asked why Pakistan can't be questioned for not taking action against terrorist groups operating from its soil when it has supported a United Nations referendum against terrorism.
He claimed that there is enough evidence to nail Islamabad on this score, including the 2008 terror attacks in Mumbai and attacks in Kashmir.
Recently in an opinionated piece for The New York Times, he said that President Trump must now consider alternatives as Washington's incentives to Pakistan since the September 11 terror attacks have failed to dissuade the latter from stopping its support to the Taliban and other terror elements.
He opined that for Islamabad, the alliance with the United States has been more about securing weapons, economic aid and diplomatic support in its confrontation with India.
He said both the U.S. and Pakistan have disappointed each other because of divergence in their interests in South Asia.
"The George W. Bush administration erred in ignoring the regrouping of the Taliban in Pakistan after their defeat in Afghanistan in the aftermath of Sept. 11, considering Pakistan's cooperation in capturing some Qaeda figures as sufficient evidence of its alliance with the United States. President Barack Obama's administration tried to deal with a resurgent Taliban with a surge in troop numbers for a specific period. Mr Obama deployed armed drones to strike at Taliban targets inside Pakistan, but that proved insufficient in dealing with the leadership living in the Pakistani cities of Quetta and Peshawar," he wrote.
He noted that the United States had presented evidence of Pakistan's links to Afghan militants just as the country transitioned from military to civilian rule in 2008.
As Pakistan's ambassador to the United States, Haqqani said he had urged Pakistan's civil and military leaders to engage with Americans honestly instead of sticking to blanket denials.
"Islamabad's response was to argue that Pakistan does indeed support insurgents in Afghanistan, but it does so because of security concerns about India, which is seen by generals and many civilian leaders as an existential threat to Pakistan. But that excuse is based on exaggerations and falsehoods. India has no offensive military presence in Afghanistan and there has never been any evidence that the Afghans are willing to be part of India's alleged plan for a two-front war with Pakistan, he said.
The United States this month had withheld the disbursement of USD 350 million aid to Pakistan after Pentagon chief Jim Mattis informed the Congress that Islamabad has not taken sufficient measures to counter the Taliban-affiliated Haqqani Network.
Pakistan it was stated has not taken sufficient action against The Haqqani Network as per the National Defense Authorization Act to permit full reimbursement of Coalition Support Funds.
Pakistan was allotted USD 900 million aid through the special fund by the United States. Pakistan has already received USD 550 million funds out of the allotted USD 900 million aid.
Secretary Mattis said Pakistan still has time to influence the certification decision by taking action against The Haqqani Network.
This comes as the Trump Administration continues to retain Pakistan on Washington's list of nations providing "safe havens" to terrorists in its annual 'Country Report on Terrorism', as mandated by the U.S. Congress.
-ANI