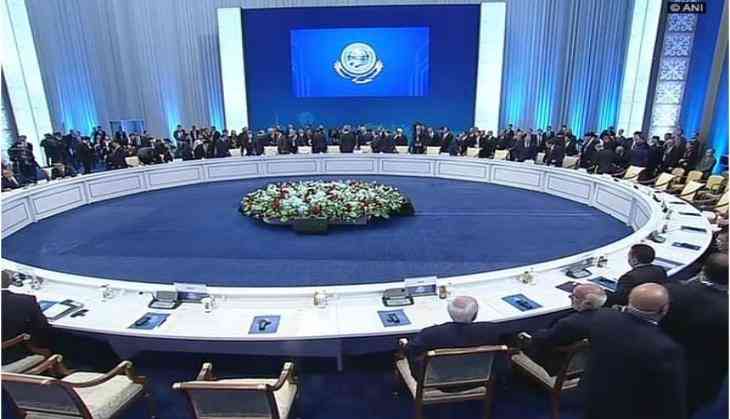 The 17th Shanghai Cooperation Organisation (SCO) Summit began in Kazakhstan capital Astana on 9 June and Prime Minister Narendra Modi is set to address it.
The leaders of India, China, Russia and Central Asian countries will discuss ways to combat terrorism and boost trade, including peace and security in the region at the SCO Summit in the wake of the terror strikes in many countries.
India is set to join as full member of the SCO comprising China, Kazakhstan, Kyrgzstan, Russia, Tajikistan and Uzbekistan.
The highlight of this year's summit is the accession of India and Pakistan to the SCO. With their induction, the SCO will expand its geographical coverage to South Asia and become one of the biggest regional organisations.
The agenda of which predominantly includes accession of India and Pakistan to the regional grouping.
ISIS is the major threat and Prime Minister Narendra Modi will pitch for sharing of intelligence and cooperation to address the threat of terrorism in the region. India is also likely to deepen its security-related cooperation with the SCO and its regional Anti-Terrorism Straructure dealing with security and defence. The summit is expected to come out with a joint statement named Astana Declaration to fight terrorism. Drug trafficking is another area of focus at the summit
On his second day in Kazakhstan capital Astana, Prime Minister Narendra Modi met President Xi Jinping of China and President Shavkat Mirziyoyev of Uzbekistan on the sidelines of the Shanghai Cooperation Organisation Summit on 9 June.
Stressing about the need to deepen cooperation between India and Uzbekistan, Modi said "India and Uzbekistan has foundations in the historical contacts and cultural links and there is a lot of scope for enhancing ties between both the countries. We will work together to take our bilateral ties to next level that includes political, economic, trade, transportation, military exchanges technological ties. "
Modi congratulated President Shavkat Mirziyoyev for winning the December 2016 presidential election.
Mentioning about his previous meeting with the President, Modi said,"I still remember our meeting in Tashkent which was very fruitful."
Modi said there is a lot of potential in expanding ties between the countries.
Earlier, Prime Minister Modi met Chinese President Jinping and thanked him for supporting India's bid to become a full member of the Shanghai Cooperation Organisation ( SCO) - a consortium that focuses on security and trade.
-ANI