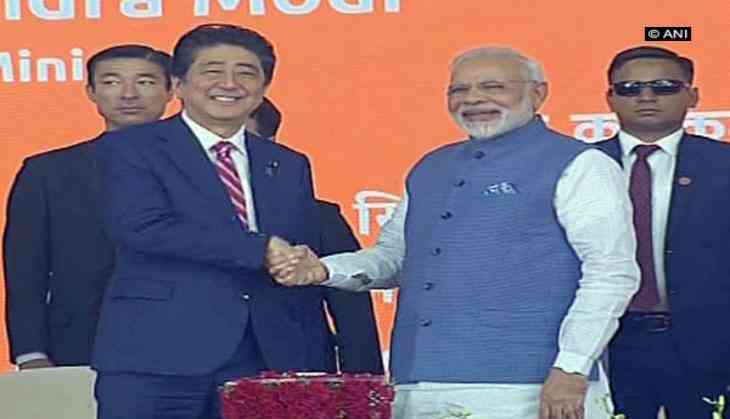 Shinzo Abe, Narendra Modi (ANI)
Strongly pitching for a zero tolerance approach towards terrorists and terror groups, Prime Ministers of India and Japan, Narendra Modi and Shinzo Abe, on 14 September agreed that there is an urgent requirement to strengthen both bilateral and multilateral cooperation against terror groups like Al-Qaida and Pakistan-based Jaish-e-Mohammed (JeM) and Lashkar-e-Taiba (LeT).
In a joint statement issued after talks held here, both leaders said they were looking forward to the 5th Japan-India consultation on terrorism for strengthening various levels of counter-terrorism cooperation.
Modi and Abe also urged Islamabad to bring perpetrators of terror strikes, including those involved in the Mumbai (2008) and Pathankot (2016) attacks to book.
Describing terrorism as a growing menace, both shared the view that it is a global scourge in all of its manifestations and must be forcefully combatted "through concerted global action in the spirit of zero tolerance".
The joint statement specifically said that all countries must ensure that their territories are not used to launch terrorist attacks on other countries.
They called upon all countries to work towards rooting out terrorist safe havens and infrastructure, disrupting terrorist netwoprks and financing channels and halting cross-border movement of terrorists.
Both the leaders agreed for enhanced bilateral cooperation in countering terrorism through increased sharing of information and intelligence and called upon UN member countries to implement UNSC Resolution 1267 and other relevant resolutions designating terrorist entities.
Today's joint statement comes barely a fortnight after BRICS countries slammed Pakistan without naming it for state sponsoring deplorable terror attacks in the immediate neighbourhood as also in in other parts of the world.
-ANI