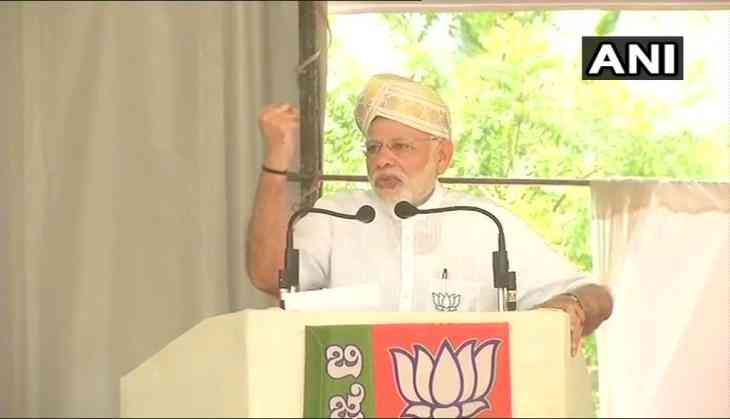 Prime Minister Narendra Modi on Thursday, lashed out at the Congress for disrespecting the sacrifices of the country's soldiers and questioning them during the surgical strikes against Pakistan.
Addressing an election rally in Kalabugari district of poll-bound Karnataka, the Prime Minister said "Congress has no respect for the sacrifices of our soldiers. When our soldiers did surgical strikes, the shameless Congress party questioned the strikes and kept asking for proof," he said.
The Prime Minister also hit out at the Congress party for its 'disrespectful attitude towards the country's Armed Forces.'
"From insulting Field Marshall Cariappa and General Thimayya to calling our Army Chief a 'Sadak ka goonda' right after surgical strikes, they (Congress) have consistently shown their disdain for our brave heroes," he added.
Reminding the crowd of how Congress had let down its voters in the last election, Prime Minister Modi said, "During last elections, Congress promised they will make Mallikarjun Kharge Ji the Chief Minister. They misled the Dalit community. This is typically how Congress plays politics."
"We have seen the state being ruined for five years and we will no longer allow the state to be ruined further. People are seeing that in all corners of India the Congress is being rejected," he added.
Urging the people of Karnataka to vote for the BJP, the Prime Minister said that upcoming elections in the state is not only about electing MLAs but about the security of women and development of farmers.
Prime Minister Modi kickstarted a series of election rallies in the poll-bound state on May 1 by addressing three rallies in Chamarajanagara, Udupi and Chikkodi district in which he targeted the Congress party and Chief Minister Siddaramaiah.
Today he will address two more rallies-one in Ballari and another in Ramanagar district.
Karnataka will go to polls on May 12 to elect its representatives for the 225-member assembly. The results will be out on May 15.
(ANI)