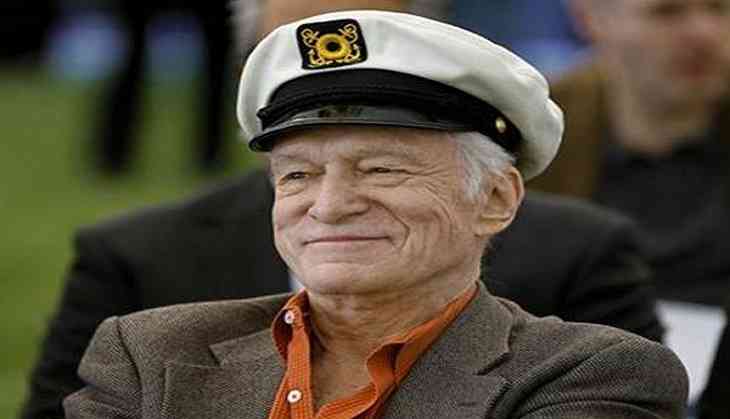 The original Playboy of the world Hugh Hefner, founder of American men's lifestyle and entertainment magazine 'Playboy', has died on 28th September at his Playboy Mansion in Los Angeles from natural causes.
The 91-year-old was founder and editor-in-chief of 'Playboy'.
Hefner's son Cooper, chief creative officer of Playboy Enterprises, said in a statement, "My father lived an exceptional and impactful life as a media and cultural pioneer and a leading voice behind some of the most significant social and cultural movements of our time in advocating free speech, civil rights and sexual freedom."
"He defined a lifestyle and ethos that lie at the heart of the Playboy brand, one of the most recognisable and enduring in history. He will be greatly missed by many, including his wife Crystal, my sister Christie, and my brothers David and Marston, and all of us at Playboy Enterprises," he added.
He was also the founder and chief creative officer of 'Playboy Enterprises', the publishing group that operates the magazine.
Playboy founder was a multi-millionaire and his net worth at the time of his death was over Dollar 43 million.
Hefner was also a political activist and philanthropist and was active in several causes and public issues.
In 1953, Hefner started publishing 'Playboy', which featured short stories and cartoons but would become most famous for its nude centerfold photographs.
Indeed, the debut issue's pictorial featured a naked Marilyn Monroe.
Here are the lesser know fact about American magazine publisher Hugh Hefner:
In 1953, with just 8,000 dollars the aspiring publisher produced the very first magazine and the copies were sold more than 50,000 when it hit the news stand in December of 1953.
In 1959, Hefner divorced his wife in the early days of his magazine success and he decided that he would not only promote the fantasy that he had create but he would live it as well.
In early 1960s, the tycoon began an American variety/talk television show Playboy's Penthouse.
Having already established empire, Hefner in early 1970s when his Playboy magazine was selling 7 million copies in a month, he made his permanent home Playboy Mansion in Los Angeles.
In 1989, Hefner married to then American model and actress Kimberley Conrad and the couple had two children but seprated in 1998 after which Hefner said that he realised that he was much happier in his bachelor life.
He once said that his life revolves only around woman and he continued to live his 'playboy' fantasy even in his later years.
He was often spotted surrounded by large groups of women and mostly with celebrity guest.
In 2005, he even returned on television screens with a bang this time showing a small screen with three living girlfriends in reality show 'The girl next door'.
In late 2000, the mogul tied knot to 60 years of his Junior in new year's eve in 2012.
In 2016, Hefner sold his beloved Playboy Mansion for a 100 million dollar on the condition that he'll be allowed to live there for the rest of his life.