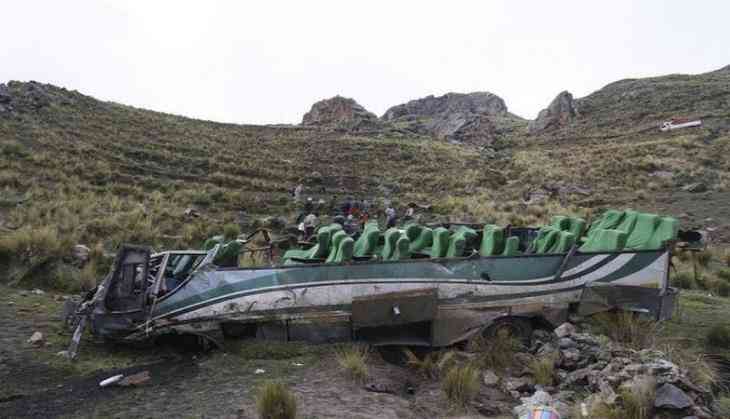 The Peruvian government on 3 January banned buses from the fateful stretch, where a bus collided with a truck and plunged off a cliff, killing 51 people.
According to the New York Times, Peruvian President Pedro Pablo Kuczynski instructed his minister of transportation and communications, Bruno Giuffra, to stop buses from using the fateful stretch and close down for repairs soon.
"It's very painful to us as a country to suffer an accident of this magnitude," the president wrote on Twitter.
The local authorities found three more bodies, pushing the death toll further from 48 to 51.
Even as rescue workers continued to retrieve bodies from the bus, there was anger among the people over the government's failure to find an alternative road over the fateful stretch. The stretch is popularly known as the 'Devil's Curve', according to locals.
The stretch, located at least 65 kms away from the Peruvian capital, Lima is so foggy that drivers often cannot see the vehicles in front of them. One-fourth of the stretch curves at least 52 times atop a cliff overlooking the Pacific Ocean. In many places, there is no safety rail at all.
Since 1990, at least 20 traffic accidents have occurred on the fateful stretch, many of them involving the loss of lives, including the Tuesday's incident.
On Tuesday, at least 25 people were reportedly killed and several others injured after a bus collided with a truck and plummeted off a steep cliff near Pasamayo, located north of Lima.
Six survivors of the crash, who were found during the rescue operations, suffered serious injuries.
All the injured have been evacuated to hospitals in Lima and other nearby places.
The death toll was expected to rise as many injured were reported to be in a critical condition.
Police and firefighters are still continuing their rescue operations.
The bus was reportedly heading to Lima from Huacho with 57 passengers on board when the incident happened on the Pan-American Highway.
-ANI